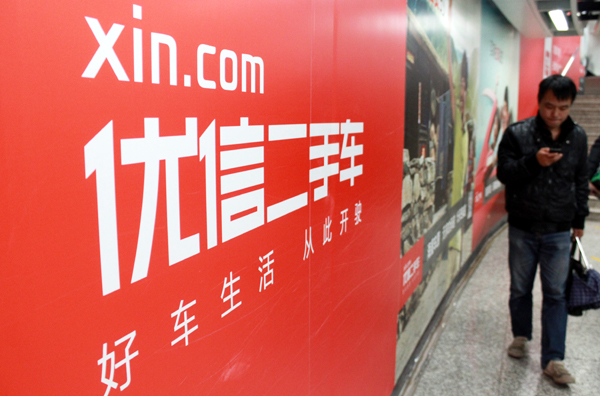 A Xin.com advertisement for used cars in a subway station in Shanghai. Major websites dealing in used cars advertised heavily last year, but their performance has been poor. Zhen Huai / For China Daily
Shen Rong has been riding a roller coaster over the past few months. Having experienced joy, hope and excitement, he is now filled with disappointment.
Like many in the used car sector, the deputy secretary-general of the China Automobile Dealers Association believed spring was around the corner when in March the State Council promulgated a series of policies to stimulate the sector.
Among other things, the eight-article guideline required that local government should lift any limits on inflows of second-hand vehicles from other regions by the end of May.
In China, policies are like magic and usually a boom is soon conjured. But this time, it seems that the hat is yet to be replenished with rabbits.
Statistics show that China sold 4.77 million used cars in the first half of this year, up 3.59 percent year-on-year, a low growth rate "not seen in recent years". Monthly sales fell from 884,000 units in March to 818,700 units in June.
"As things are turning out, we might have been over-optimistic. The performance has been a far cry from what was expected," said Shen at CADA's press conference on Aug 1.
When the favorable policies were released the organization expected this year's sales to reach at least 11 million units, 1.5 million more than last year.
However, he did not expect that many cities would postpone the policies, especially removing the ban on selling non-local cars.
China is home to 172 million cars, but the ban has been curbing the free flow of used cars in the country, resulting in insufficient supplies, which so far has been the biggest impediment in the sector, Shen said.
However, only 133 cities had lifted the ban by Aug 1, less than half of those that had introduced the restrictive measures, although the State Council's deadline was the end of May.
Industry insiders say that local authorities' failed to lift the ban because used cars usually have higher emissions and contribute less to local economies. Cutthroat competition in the new car market is also contributing to the lackluster performance of the used car sector.
About 24 million new cars were sold in China last year, and a similar number is swarming into the market this year, so carmakers are trying all means to stay competitive. However, they are cutting their prices so much that prices for used cars seem exorbitant to potential buyers.
Shen said used cars are now priced at 70 percent of new cars, but in developed markets such as the United States they hover at around 50 percent.
What is also aggravating the bleak outlook is the fact that the capital market has become less interested in the sector.
A report from China Securities shows that $2 billion was invested in the sector from 2014 to 2015 but Shen said there has been little investment this year.
Major websites specializing in used cars, such as Xin.com and Guazi.com, advertised heavily last year, but their performance has been poor.
CADA statistics show that 180,000 used cars were sold on online platforms, accounting for merely 7.15 percent of the market.
The National Business Daily reported that Guazi planned to spend 1 billion yuan ($150.7 million) on advertising in 2016, but it has revised the plan to focus on its core business of sales.
Shen said "it might be time to reexamine the situation" and cut the estimated sales to 10 million units, slightly more than last year, but he fears the combination of factors might do more harm than the hard facts.
"People in the sector expected a lot when the policies were released, but the market did not improve as expected," he said.
"I am afraid the dashed hopes might affect confidence and thus weaken the sector's vitality, and that is something nobody wants to think about."