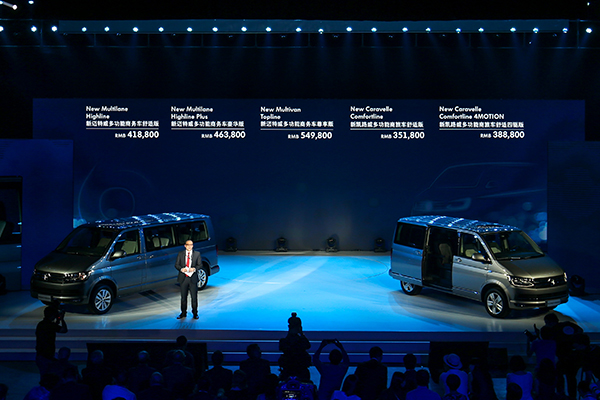 The imported Volkswagen new Multivan (right) and new Caravelle hit the Chinese market at a launch ceremony in Shanghai on Thursday. [Photo provided to China Daily]
Targeted at China's business executives and start-up entrepreneurs, Light Commercial Vehicles of Volkswagen Group Import Co Ltd expects its sixth generation T Series to set new standards with its flexibility, class-leading functionality, and superior reliability.
Five versions of the imported Volkswagen New Multivan and New Caravelle hit the Chinese market at a launch ceremony in Shanghai on Thursday.
"Chinese customers are longing for higher quality and better performance in premium multi-purpose vehicles. The T6 is going to meet their expectations and demands in this expanding segment," said Marcus Wilke-Tyczka, managing director of Light Commercial Vehicles, Volkswagen Group Import Co Ltd.
Wilke-Tyczka added: "As the most innovative generation in the T Series family, it is setting a new benchmark with limitless flexibility, splendid capability and marvelous abilities."
High-end business use
China is currently seeing a boom in innovative startups, and the smart, digitally-aware, motivated, capapble entrepreneurs heading them are reinventing existing business models. The T6 is designed to meet their requirements.
All T6 versions are equally generous to passengers with their class-leading and versatile seating flexibility and spaciousness.
The new Multivan has seven seats, all of which can be moved freely, and second-row seats that can swivel. Also featuring a foldable and removable table, the Multivan's passenger cabin can be efortlessly transformed into a mobile ofice, making it perfect for meetings with colleagues, or trips with clients.
The new Caravelle offers two seating options: A fourrow, nine-seat model, which can carry more passengers, or a three-row, eight-seat option that features a larger trunk for luggage. Whichever seating option you choose, all seats are removable, afording ultimate versatility.
The high-end vehicle will also soon be customizable, for both luxury travel and special purposes.
"The remarkable quality enables the T6 to be used in more special purpose roles, including as an ambulance and police vehicle," said Wilke-Tyczka.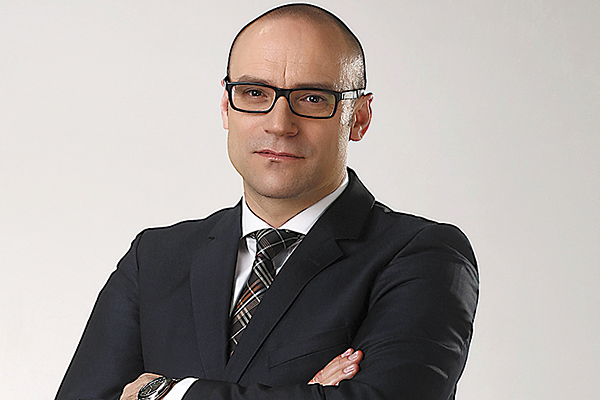 Marcus Wilke-Tyczka, managing director of Light Commercial Vehicles, Volkswagen Group Import Co Ltd. [Photo provided to China Daily]

Premium family life
Wilke-Tyczka pointed out that many business leaders, having been educated overseas, became aware of the T series during their time abroad.
He said: "The startup owners may also use it in their private life, for leisure time with friends, family trips and vacations."
About half of T series customers use the vehicle for business purposes, and the other half are typically early-middle-aged drivers with families, according to the company's data on the fifth generation T Series.
The company anticipates that the Multi-Passenger Vehicle market will expand rapidly in the near future, as more parents opt to have a second child.
The Multivan afords passengers a comfortable entry or exit, thanks to its electric sliding door. There is also an electric tailgate function that memorizes the preferred height and angle of opening. The new Multivan is equipped for the first time with a 6.3-inch in-dash touch screen and the upgraded Modular Infotainment Platform system, or MIB II, with App-Connect.
The T6, powered by a 2-liter four-cylinder Turbocharged Fuel Stratified Injection, or TSI, engine, gives customers outstanding efficiency and power.
The 150kW maximum output and 350 Nm peak torque, together with 4Motion technology, enables swift acceleration and greater power and control in difficult driving conditions.
The intelligent safety assistance features, including Hill Descent Control, City Emergency Braking and Driver Fatigue Detection, also ensure greater safety and comfort for passengers.
T heritage
The T Series was Volkswagen's first van and second ever model. Production began on the series in 1950. It has since become a symbol of advanced technology, flexibility, and functionality.
All of the generations, from T1 to T6, have been developed to meet the requirements of drivers in their specific eras, with each model reflecting those evolving times and emerging needs.
With more than 12 million vehicles sold worldwide in its 66 years to date, the T Series continues to offer drivers countless possibilities.
Jan Michel, executive director of sales international NV-I, Volkswagen Commercial Vehicles, said, "The past five generations of T series have firmly secured its place as the world's best-selling model in its segment.
"Since its introduction to China in 2008, Chinese customers have been embracing its combination of functionality, flexibility, engineering and advanced technology in increasing numbers."
The T5 performed well in 2015, exceeding sales expectations and securing a high level of satisfaction and recognition with customers.
Wilke-Tyczka is optimistic about prospects for the Chinese market amid the T5 runout and T6 launch.
"We are going to consolidate our 10 percent market share, and expect a similar sales volume as last year," he said.
Featuring a number that is considered lucky in Chinese culture, the T6 has five variants: The new Caravelle Comfortline, Comfortline 4Motion, and new Multivan Highline, Highline Plus, and Topline. The recommended price starts from 351,800 yuan ($53,614), and tops at 549,800 yuan.
Six highlights of the T6
German quality
The T6 is made in Hannover, Germany, and its heritage and continuing dedication to quality ensure that it meets the very highest standards. With a 66-year legacy, the much-loved van continues to ofer drivers unrivalled flexibility and choice.
4Motion
The upgraded 4Motion, coupled with Hill Descent Control, significantly boosts performance and eficiency. Four-wheel-drive ensures improved control in all conditions, and also enhances acceleration.
DCC
Dynamic Chassis Control is made up of an electromechanical power steering system, which allows the vehicle to adapt automatically to different driving conditions. There is also a driving mode selection, allowing drivers to switch between Normal, Sport and Comfort modes, all of which change the way the vehicle shifts.
Driving Safety Assist
An array of assistance system sensors contribute to both safety and comfort. This intelligent system includes Adaptive Chassis Control, Side Assist, and Multi-Collision Braking.
Flexible seat arrangement
The seats are 12-way power adjustable, and a memory function is available for the driver. An in-cabin multifunction table and second-row swivel seats ensure seating comfort for both business and family trips.
App Connect
The superior infotainment system features a 6.3-inch touch screen. Modular Infotainment Platform enables the driver to operate a smart phone via the touch screen.