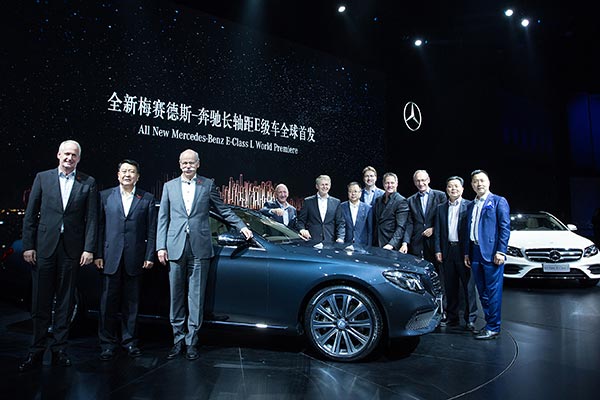 Executives from Daimler AG, BAIC, BMBS and BBAC witness the world premiere of the All New Long-Wheelbase E-Class on Sunday. Photo provided to China Daily

For people who believe history is still in the making  
Mercedes-Benz' global strategy puts China at the forefront, and the company has committed itself to growing alongside China with the spirit of sustainability and innovation as epitomized by the All New Long-Wheelbase E-Class.
"2015 was the most successful year in the 130-year history of Mercedes-Benz," said Dieter Zetsche, chairman of the board of management Daimler AG and head of Mercedes-Benz Cars. "And we owe that success in large part to China."
Among the German top three premium car marks, Mercedes-Benz took the top position globally in first quarter 2016, surpassing BMW and Audi in growth, and China's role in this development cannot be overstated.
By the end of last year, Mercedes-Benz had sold over 363,000 units in China, a 35 percent year-on-year increase, enabling China to surpass the United States and become the No 1 market for Mercedes-Benz passenger cars worldwide.
The shifting of China's economic landscape to a new normal has presented new challenges but also new opportunities for automotive manufacturers, and it continues to be in the spotlight as the world's largest auto market.
Building on the solid foundation of last year's strong momentum, Mercedes-Benz has seen strong sales performance so far this year, with almost 105,000 units sold in the first quarter, representing year-on-year growth of 39 percent.
"Estimates see an additional growth potential of up to 8 percent this year within the Chinese auto industry," said Zetsche. "It feels great to be part of the Chinese family, and we are honored to participate in that growth."
Expressing his gratitude to Chinese customers, Zetsche said: "Thank you for allowing us to make China a second home for Mercedes."
Of course, thankfulness can only be carried so far through language, and the most genuine form of appreciation has arrived in the form of the All New Long-Wheelbase E-Class, which is both a gift to those who believe that the brand's history is still in the making, as well as a celebration of how far Mercedes-Benz has come.
Mercedes-Benz held the world premiere of the All New Long-Wheelbase E-Class, on the eve of this year's Auto China in Beijing.
Rolling into the spotlight in a historic celebration at the BTV Grand Theatre in Beijing, the All New E-Class was enthusiastically received by some 600 guests and members of the media.
The world premiere of the All New E-Class was infused with Chinese elements, enlivened by the spirit of innovation. As guests arrived at the event, they were welcomed with an orchestral rendition adapted from famous "On Hopeful Field", which balanced tradition and modernity and struck an emotional resonance with all present.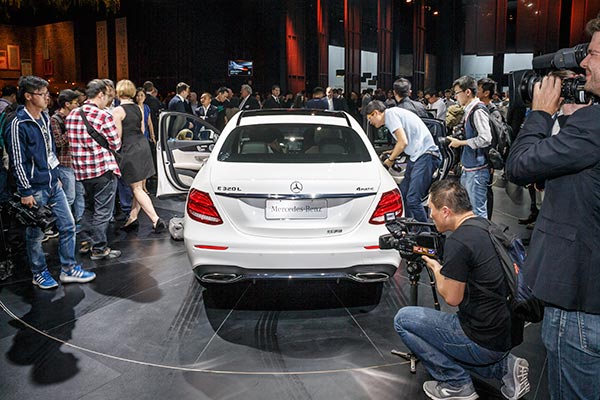 The All New Long-Wheelbase E-Class is redefining its segment, setting new standards in terms of connectivity and autonomous driving, with custom features designed exclusively for the Chinese market. Photo provided to China Daily
Touching upon China's reemergence on the global stage, Nicholas Speeks, president and CEO of Beijing Mercedes-Benz Sales Service said that "your hope and vision were driven by a spirit that we have seen throughout the years as being quintessentially Chinese - one of bravery, resilience, diligence and tenacity."
And there is something very personal yet also universal about these values.
"This spirit, which is still very much alive today, is one which touches everyone, including me, since it embodies the drive that makes us all human," said Speeks. "It is the same spirit that has been driving our brand - 'The Best or Nothing'. It continues to dictate who we are and what we do today, 130 years into our still unfolding story."
For Mercedes-Benz, providing products that resonate with the values and cultural context of customers here in China sits at the very heart of the brand. It is their unwavering pledge to embark on "an untiring spirit in pursuit of the best" which has allowed Mercedes-Benz to imbue their offerings with the values and preferences of local customers as the company continues to grow alongside China.
At Mercedes-Benz, the notion of family bears enormous value. Speeks went on to mention that their growth would not have been possible without the consistent support and advice of their customers and dealer partners.
"Equally important has been Daimler's partnership with BAIC - we are now celebrating the third generation of Chinese-manufactured E-Class and over a decade of partnership at Beijing Benz, joined now by their younger brother at BMBS," said Speeks.
"Mercedes-Benz is a legend in the auto industry, and the E-Class is a shining symbol of the Mercedes-Benz family," said Xu Heyi, chairman of Beijing Automobile Group, and Beijing Hyundai Motor, who touched upon the vehicle's unique selling points before segueing into the success story of Beijing Benz Automotive, also known as BBAC.
"In 2015, Mercedes-Benz topped the premium car market globally in terms of growth, bolstered in large part by BBAC, which boasts one of the largest Mercedes-Benz passenger car plants in the world.
After years of unremitting effort, Mercedes-Benz has flowered across China and it continues to bloom."
Resting behind Xu was a model W211 Mercedes-Benz E-Class, the first generation vehicle to be produced by BBAC, a decade ago. But the spotlight was on the All New Long-Wheelbase E-Class, which was especially designed to meet the demands and needs of Chinese customers.
The All New Long-Wheelbase E-Class is redefining its segment and setting new standards in terms of connectivity, autonomous driving and custom features designed exclusively for the Chinese market.
"The All New E-Class is truly a masterpiece of intelligence, and takes us one step closer to realizing fully autonomous driving," said Hubertus Troska, member of the board of management Daimler AG, responsible for China.
With its wide range of advanced technologies, intuitive configurations and innovative designs for Chinese customers, the All New E-Class fully lives up to its reputation as the most intelligent executive sedan in the world.
"I am very confident this great new car will contribute strongly to future growth of Mercedes-Benz in China," Troska said.
Mercedes-Benz' Chinese customers are the youngest in the world, and it is this forward-thinking group of aspiring individuals which are defining the future of China.