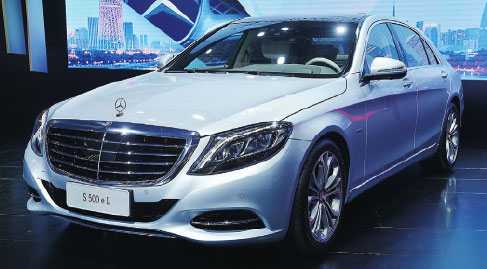 The S 500 e L features a modern hybrid drive with innovative technologies and luxury unique to the S-Class. [Photo/China Daily]
Strong lineup from three-pointed star reflects its untiring spirit in pursuit of the best
Mercedes-Benz is ending a successful year in China with a powerful showing at the last major auto show of 2015.
The Stuttgart-based automaker brought its strongest lineup yet to Auto Guangzhou, with 39 models from its Mercedes-Benz, Mercedes-Maybach, Mercedes-AMG and smart brands appearing in the company's booth at the China Import and Export Fair complex on Friday. The latest offerings include the C 350 e L Plug-in Hybrid, S 500 e L Plug-in Hybrid, All New smart forfour, New Generation Mercedes-AMG A 45 4MATIC, and the All New GLC SUV that was launched on the eve of the show.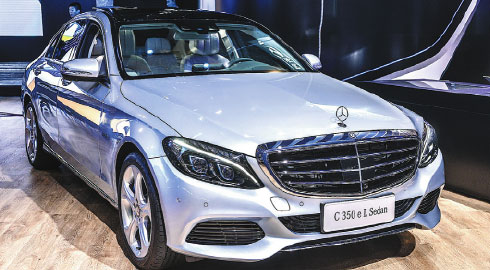 The C 350 e L plug-in hybrid is the first model in its segment that is produced in China.[Photo/China Daily]
Meanwhile, as of show day, the company has served over 300,000 customers with a year-on-year growth of over 34 percent in the first 10 months, said Nicholas Speeks, president and CEO of Beijing Mercedes-Benz Sales Service Co Ltd (BMBS).
The show day news conference marked the third appearance at the Auto Guangzhou of Speeks and it has been three years full of fortune. At the news conference, he referred to a Chinese saying "San Yang Kai Tai", which means three goats bring fortune, together with the "goat town", which the city of Guangzhou is commonly known as, to convey his wonderful experiences in China.
"Over these three years, I've learned so much about this great country, and had so many wonderful experiences," he said. "But what I am most grateful for in my time here are the strong relationships we have built with our dealer partners and customers in China."
"Every success we have seen in China, both in the past, today, and going forward toward our future development, are based on three things - our san yang, you could say - our dealer partners, our strong product line, and our customer focus."
These three vital factors have made China a key market for Mercedes-Benz, especially in the fast-growing SUV segment, which saw 2015 the automaker's "Year of the SUV".
Show stealers
Thanks to the success of the locally produced GLA SUV, and the recent launch of the GLE and SLE Sport SUVs, in the first 10 months of this year, SUVs accounted for over 40 percent of all Mercedes-Benz models sold in China.
The GLK, being replaced this season with the All New GLC SUV, saw China become its largest market globally, and Mercedes-Benz has high hopes that the new GLC will continue its predecessor's success.