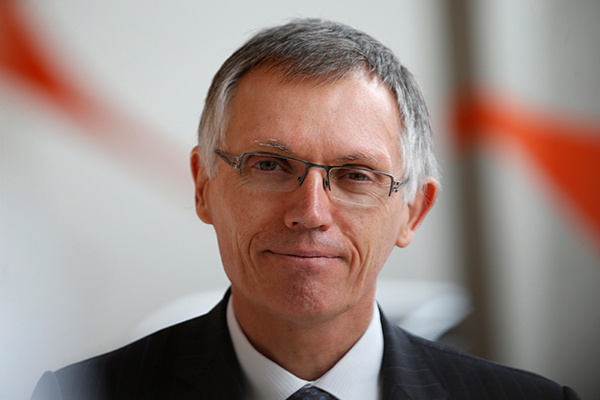 Carlos Tavares, Chief Executive Officer of French carmaker PSA Peugeot Citroen attends a news conference to comment the company's 2015 annual results at Peugeot headquarters in Paris, France, February 24, 2016. [Photo/Agencies]
PARIS - The CEO of European auto giant PSA Peugeot Citroen believed the strategic cooperation with Dongfeng Motor would ensure their business success, and the Chinese market will remain their top priority in the future.
Last year, PSA has achieved a net profit of over 1.2 billion euros ($1.3 billion). The company realized all the aims of its recovery plan "Back in the Race" two years ahead of its plan.
Carlos Tavares, CEO of PSA Peugeot Citroen, told Xinhua here in a recent interview that during the process of the company's revival, the capital injection of 800 million euros ($890 million) from Dongfeng to PSA has allowed them to restore their profitability and have time to implement the plan "Back in the Race" in early 2014.
PSA obviously reduced its losses in 2014, and managed to come back in the CAC40 stock index in the following year, Tavares pointed out.
In addition, the cooperation between PSA and Dongfeng is not limited to the financial sector. From marketing, production to research and development, the two companies "work together in the Chinese market and in Southeast Asia to carry out projects," said Tavares.
The CEO termed the relations between the two firms as "very healthy."
"It is very win-win relationship. We've known each other for over 20 years, so there is trust between the two companies. We can join forces to carry out projects together," said Tavares.
When being asked whether the partnership with Dongfeng, accompanied by the sharing of technology, will threaten the technological leading position of PSA in the auto sector, Tavares replied: "Exactly the opposite."
He noted the partnership with Dongfeng is favorable for PSA to maintain its leading position.
By sharing technology with Dongfeng, "I'll reduce my costs and investment, I can more easily introduce new technology into the Chinese market, and my products can become more competitive," he explained.
"There is no limit to our strategic collaboration now, and we have confidence that the cooperation will go further," Tavares said.
Also in the interview, Tavares expressed his full confidence in the prospect of the Chinese market.
"I have no concerns about Chinese auto market," because China's motorization is still far below that of the world, and the size of China's automobile market enables it to bring "great potential" for the automakers, said Tavares.
In 2015, PSA sold more than 730,000 vehicles in China, which was just below its sales in Europe.
"The Chinese market will remain the No 1 priority for us in the future," noted Tavares.
In the next six years, PSA will introduce at least 20 new products into the Chinese market, the CEO said, adding that the group will also work together with Dongfeng to seize market opportunities in Southeast Asia.