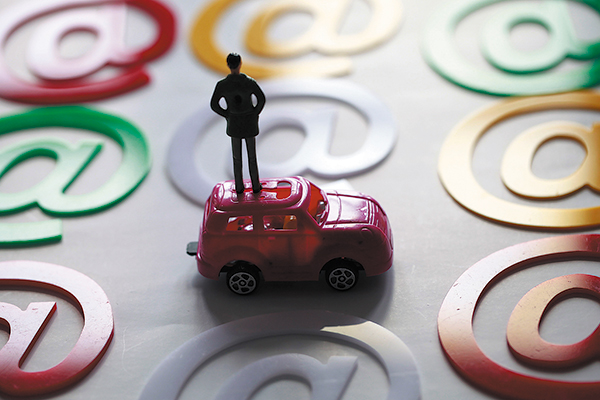 Electrification and the mobile Internet will help make cars become more than a transport tool, industry experts say. [Photo provided to China Daily]
A better understanding of customer demands will help carmaking Internet companies outperform traditional automakers, said the head of a Chinese startup with plans to produce electric vehicles.
William Li, founder and chairman of nascent electric carmaker NEXTEV, said traditional automakers are manufacturing-based, which forces them to focus more on auto sales and less on direct contact with consumers.
"You cannot blame them because the whole industry was established before the Internet industry came into being. But that will not work in the age of the Internet and what we should consider now is how to serve customers," said Li, an Internet veteran who founded China's e-commerce website Bitauto.com in 2000.
Li made the remarks at a forum, organized by news portal auto. ifeng.com, on building a powerful Chinese auto industry in late February. He explained the importance of customer experiences by using the iPhone as an example. Apple's iconic smartphone has excelled despite missing the mark in two aspects that a mobile phone used to be judged by-voice clarity and battery life.
"What it did was to change the way we evaluate. We now agree that software and touch screens are important.
"For the auto industry, electrification and the mobile Internet will do the same thing as iPhones have done. They will help make cars more fun and be more than a tool of transport."
Embracing a new age
The mobile Internet is surging in many countries, including China. According to statistics from QuestMobile, there were 899 million active smart mobile devices by the end of last year in China, accounting for 69 percent of the country's population.
Traditional automakers are catching up, like State-owned Beijing Automotive Industry Corp, partners of Daimler AG and Hyundai.
Xu Heyi, chairman of BAIC Group, said developing electric and smart cars is at the heart of the automaker's strategy for the next five years.
"We started the new-energy vehicle program in 2010. We have made some achievements. Now, we are mobilizing the best resources for the program.
"Gas-powered cars are now burning one-third of our oil products and causing severe air pollution. They will definitely give way to new-energy cars," said Xu.
According to the Ministry of Public Security, China was home to 172 million cars by the end of last year.
Xu said the nation's "short history and therefore a lighter burden" in the industry might give Chinese automakers an opportunity to catch up with international ones in developing new-energy vehicles.
BAIC has also established a team dedicated to smart cars. Xu said the group's first autonomous vehicle will make its debut at the Beijing auto show in April.
Xu said BAIC is open and willing to build cars for Internet companies, believing such cooperation deals can bring into play their respective advantages.
Fu Yuwu, president of the Society of Automotive Engineers of China, urged traditional automakers to embrace the Internet to stay competitive.
"The Internet is powerful. You may hate it but you cannot avoid it. Electric and smart cars are heralding a new age."
Fu also called for the Chinese government to lower barriers for private companies to become automakers.
"China's carmaking industry is in dire need of innovation. If the government does not allow newcomers there is no hope that China will have a powerful auto industry."