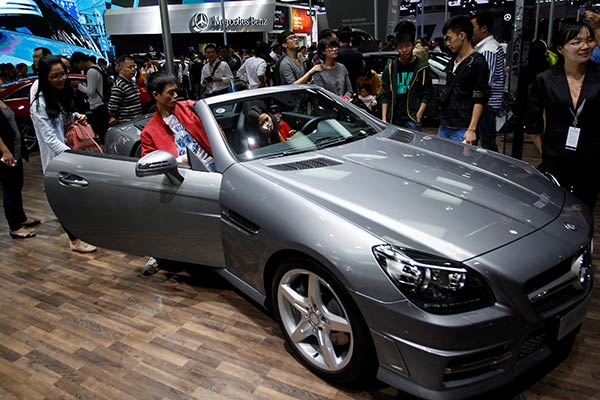 China's car sales will continue to surge in the coming year due to reduced tax and economic development.[ZOU ZHONGPIN / CHINA DAILY]

Year-on-year growth forecast to hit 3% for full year, with higher increase anticipated in 2016
China's auto sales are expected to grow around 3 percent year-on-year in 2015 and even higher in the next year as the market continues rebounding in November, said a senior executive of the Chinese Association of Automobile Manufacturers.
"There would be no problem for this year's car sales to meet the goal of 3 percent growth from the previous year," said the CAAM's executive vice-president Dong Yang.
Dong's words came after the CAAM released statistics on Thursday that show China sold nearly 2.51 million vehicles in November, the highest monthly sales this year and a 12.9 percent rise from the previous month.
The November performance brought total sales in the first 11 months of 2015 to 21.79 million units, an increase of 3.3 percent year-on-year.
The growth rate was 1.5 percent at the end of October, 0.3 percent by the end of September and 0 percent at the end of August.
Chen Shihua, director of the organization's information center, said the November rise was mainly thanks to the sales of passenger vehicles, especially those with engines no larger than 1.6 liters.
According to the CAAM, nearly 1.56 million cars with such engines were sold during the month, accounting for 70.9 percent of total passenger car sales in the month and 1.9 percentage points more than in October.
In late September, the Chinese government issued a measure that halves the tax on purchases of passenger vehicles with engines that are 1.6 liters or smaller until the end of 2016.
Sport utility vehicles have been another major driving force behind the robust sales in November.
CAAM statistics show that SUV sales have been surging the whole year, with 72,330 units sold in November, a 63.6 percent surge year-on year. A total of 5.46 million SUVs were sold in the first 11 months of 2015, up 48.2 percent from the same period last year.
From January to November, SUVs accounted for nearly one-third of all cars sold in China. During the same period, Chinese auto brands saw their market share grow to 41.1 percent, largely because of the popularity of domestically made SUVs.
Dong said SUVs would be as popular in 2016 as they are in 2015, saying they and cars with engines no larger than 1.6 liters would continue to boost sales in the coming year.
"Our association has not worked out its estimates but I personally believe the market will grow at 5 percent to 7 percent year-on-year in 2016," Dong said.
He said it would be reasonable for China's auto industry to grow at a pace similar to the pace of the country's economic development.
Jin Jun, a PwC China advisory partner, also expects the Chinese auto market to grow faster in 2016.
He estimated that sales of light vehicles will reach 25 million units in 2016, about 8 percent increase from 2015, as customer demands were "obviously curbed" this year by economic uncertainties such as the turbulent stock market months ago.
"Due to such uncertainties, many customers may have delayed their purchase plans to wait for price cuts and more choices in terms of models. And you can see, many carmakers have been unveiling models in the second half of this year," Jin said. He believed that SUVs and even MPVs will constitute the mainstay of car sales in 2016 as carmakers will offer models customers like.
At the Guangzhou auto show that concluded in November, many Chinese and foreign carmakers either showcased their latest SUV models or revealed plans to roll out SUVs, including Volkswagen, Great Wall, Changan and Qoros.
Even British luxury carmaker Jaguar, which has been specializing in sedans, unveiled an SUV called F-PACE at the show to woo Chinese customers.
PwC also expects a continuous rise in China's car sales in the next six years, estimating that 30.9 million light vehicles will be sold in the country in 2021, a 5 percent compound annual growth rate from 2015.
The golden age of doubledigit growth is gone, but there is much potential room for car sales due to such factors as China's economic development, rapid urbanization and an expanding middle class in coming years, Jin said.
PwC statistics show there will be 221 cities with populations of 1 million people by 2025 and China will have 350 million people in the middle class by 2020, roughly the number the United States has now.