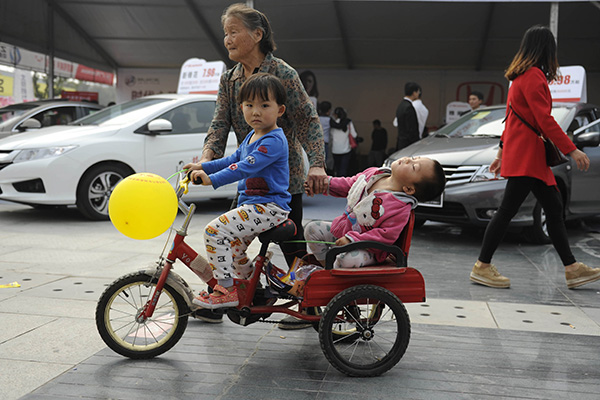 An elderly woman takes two children to an auto show in Anhui province. The Chinese auto market continued to see a growth in sales in October. [Photo/China Daily]

Expert says govt stimulus 'has worked effectively'
china's auto market, propped up by the central government's stimulus policy, continued its renewed growth in October, said an executive of the Chinese Association of Automobile Manufacturers.
According to the association, 2.22 million vehicles were sold in October, the market's highest monthly sales since April and an 11.8-percent rise year-on-year.
"It is clear that the State Council's stimulus policy has worked effectively," said Dong Yang, executive vice-president of the association, at a news conference on Wednesday.
In late September, the central government issued a measure that halves the tax on purchases of passenger vehicles with engines that are 1.6 liters or smaller.
The association's statistics show that 1.33 million vehicles with such engines were sold in October, a 16.3-percent growth from September, accounting for 69 percent of all passenger vehicles sold that month.
The October performance brought total auto sales through the first 10 months to 19.28 million units, a 1.5-percent increase from the previous year. The number of passenger vehicles sold in October totaled 1.94 million units, surging nearly 11 percent year-on-year.
Dong said it is possible for 2015 total sales to rise by 3 percent compared to 2014 figures now that prospects have brightened over the last two months.
At the beginning of the year, the association estimated that the Chinese auto market would grow by 7 percent, but a sluggish first-half performance forced the organization to slash it to 3 percent in July.
"I believe (the State Council's stimulus policy) will not stop boosting sales until it expires by the end of 2016," Dong said.
Sales of sport utility vehicles continued to grow, with 620,000 units sold in October, a 60.56-percent surge year-on year.
In October, sales of multipurpose vehicles rose by 4.63 percent year-on-year (at 192,800 units), while the number of sedans and hatchbacks sold in the month totaled 1.05 million units, a 0.2 percent increase.
The commercial vehicle market also showed encouraging signs. More than 280,000 commercial vehicles were sold in October, a 4.1-percent increase from September and a 2.3 percent growth year-on-year.
New-energy vehicles also attracted rising interest from consumers, with 34,316 NEVs sold in October, five times the total a year earlier, according to the association.
Through the first 10 months, consumers bought 171,145 new-energy vehicles, a 290-percent rise from the same period last year, with pure electric models taking up a majority of that figure.
Chinese auto brands saw renewed growth last month. By the end of October, they held a 41-percent market share, up from 37.8 percent for the same period a year earlier, largely because of the popularity of domestically made SUVs. From January to October, the market share of SUVs grew 9.8 percentage points.
The combined market share of Japanese brands inched forward from 15.2 percent to 15.7 percent for the same period. Brands from Germany, the United States, South Korea and France saw their market shares fall from a range of 0.3 percent to 1.5 percent from a year ago.