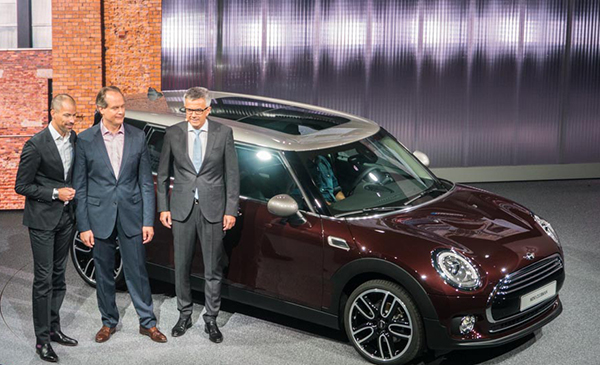 Mini's new Clubman is presented during the media day at the Frankfurt Motor Show in Frankfurt, Germany Sept 15, 2015. [Photo/chinadaily.com.cn]
German firms the hardest hit given their strong presence here
The slowdown in the Chinese automobile market, the world's largest, may be affecting the entire industry, but will hit German makers the hardest given their strong presence in the country, analysts said.
At the International Motor Show in Frankfurt, which opened to the media on Tuesday and will invite the general public from Saturday, German companies such as Volkswagen, BMW and Mercedes have the biggest stands, generally dwarfing those of their foreign rivals.
But the impressive displays cannot hide the difficult position they find themselves in, despite the new dynamism of cars sales in Western Europe and the United States.
"The golden years are over in China," said Stefan Bratzel, director of the Center of Automotive Management. While car sales practically trebled in the world's No 2 economy to 23 million units between 2007 and 2014, they are projected to grow by just 35 percent between 2014 and 2021, according to forecasts by consultants at AlixPartners.
Gone is the era of double-digit growth rates: After 14 percent in 2013 and then 7 percent in 2014, market experts are projecting growth of "around 3 percent" this year.
"The normalization of the Chinese market was expected," said Elmar Kades at AlixPartners. But a slowing economy coupled with falling stock markets are putting additional brakes on sales of foreign-made cars in China.
And German companies stand to feel the pinch the most, since they have long been present in China and earned huge profits from the explosion in demand in the past.
"For years now, rivals could only see the tail-lights of their German competitors. But the air is getting thinner for them, too," said Peter Fuss, an auto expert at EY.
"Their strong dependence on the Chinese market could now be seen as an Achilles' heel," Fuss said.
China represents more than one-third of its global sales for German heavyweight Volkswagen. That is a similar proportion to that of US rival General Motors. But the two are not equally placed when it comes to how they will cope with slowing demand.
German expert Ferdinand Dudenhoeffer said that makers of cheaper, more affordable cars will fare better than their higher-end rivals.
And GM, with its inexpensive Baojun, is therefore in a better position than the German giant, which owns Audi, Porsche and Skoda. At the end of July, VW-which has overtaken Toyota as the world's No 1 carmaker-scaled back its sales targets given the situation in China.