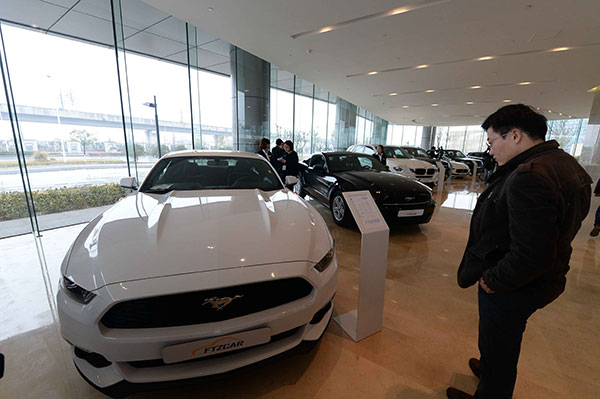 A parallel car import showroom in the Shanghai Free Trade Zone. Independent auto dealers are only selling a total of 20 cars each month since the zone began its parallel car import program this February.[Lai Xinlin / For China Daily]
Limited sources for foreign autos is FTZ's main hurdle
The Tianjin commerce commission has recently released its pilot plan for the so-called parallel imports of autos in the China (Tianjin) Pilot Free Trade Zone, making it the second FTZ to give the go-ahead on the controversial program.
The parallel import program will allow independent auto dealers to directly import vehicles from a foreign production base, a sales channel that is parallel to authorized dealers.
The price for a parallel imported auto is about 10 to 20 percent lower than that of authorized dealers.
The parallel auto imports have existed in China in the gray for years.
Since last year, local governments passed several policies to support the gray market in a bid to help drop the ubiquitous high prices that Chinese customers pay for imported cars.
In February, the Shanghai FTZ started an auto parallel import program. Thus far, sales figures from each parallel-import dealer in Shanghai on average have been lower than expected, at about 20 units per month.
Industry insiders say limited sources of foreign cars, competition with automakers and their authorized dealers and poor aftersales services are the main reasons for the current lag in sales.
"Parallel-imported cars are in a predicament now," said Zhang Zhiyong, an auto industrial analyst, as quoted by The Economic Observer.
Jia Xinguang, senior analyst with the China Automobile Dealers Association, said, "The limited source of cars is the reason for the poor sales in the Shanghai FTZ."
Jia added that it is hard for parallel-import auto dealers to acquire foreign cars because manufacturers do not support the parallel import programs. Most dealers import cars from the United States as the nation's franchise rules are relatively lax.
"But even in the US, Chinese parallel-import cars are a disputed area," Jia said.
He said automakers should cut down on the number of its franchisees, that authorities should allow Chinese auto dealers to buy cars from foreign manufacturers directly and that individual customers should be allowed to purchase cars from overseas dealers.