Growing popularity of brand spurs marque to seek own road in world's largest auto market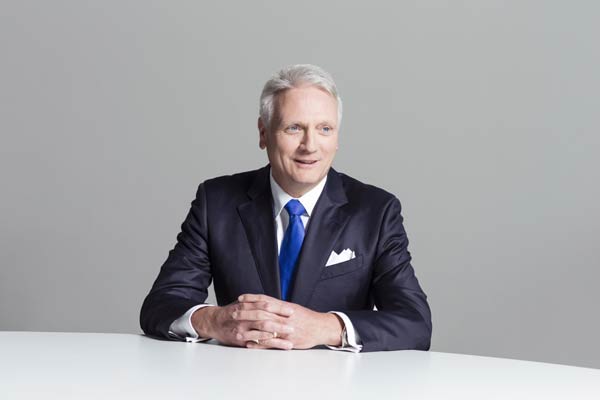 Winfried Vahland, Skoda president and CEO. [Photo provided to China Daily]
Skoda Auto expects to establish a more independent brand image in China as the Czech marque gains in popularity in the world's largest auto market.
Skoda became part of Germany's Volkswagen Group in 1991 and has been partnering with Shanghai Volkswagen to produce and sell cars in China since 2006.
"The partnership has been an advantage for Skoda, especially in the early days, because that means we have good quality and staff," said the brand's president and CEO Winfried Vahland.
Thanks to that, the brand's sales have been growing steadily. Last year it sold more than 280,000 vehicles in China, a 24 percent increase from 2013, and more than three times the average growth rate of the Chinese auto market that year.
To show its commitment to China, Skoda is planning to scale up its investment in the country. "The amount will be at least 10 billion yuan from 2015 to 2018," said Vahland.
As the acceptance of the brand and models grows steadily, Vahland said he and the heads of Shanghai Volkswagen agree it is time for Skoda to seek a road of its own in China, its single largest market worldwide.
Vahland said extensive market analyses show that the brand's target customers are young, open-minded, and progressive - people who respect tradition and also try new things.
That is also what Skoda stands for. Though not among the first auto brands to have entered the Chinese market, Skoda is one of the longest-established vehicle manufacturers in the world, with its Czech headquarters in Mlad Boleslav starting production in 1895.
"In China, we will talk about our tradition but we will not be obsessed with it. We talk about not only the past but also the future," Vahland told China Daily.
Perhaps one of the latest examples is the new Superb that had its world premiere in Prague, the capital of the Czech Republic, in early March and will be exhibited at the forthcoming Shanghai auto show.
"The new Superb is the beginning of a new era for Skoda," Vahland said. Calling the model a "game changer" for the brand, he said, "People tend to associate Skoda with rationality, but the new car shows we are uncompromisingly emotional."