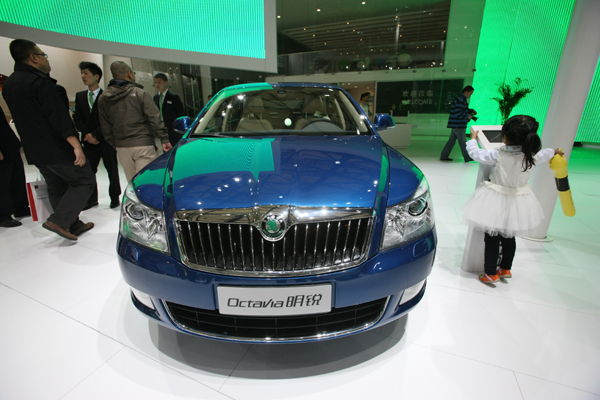 Dynamic and emotional, that's what Winfried Vahland, chairman of Skoda Auto, wants to deliver to Chinese consumers of the brand.[Photo/China Daily] 
Large-scale offensive aims to take 4 percent of the market
Dynamic and emotional, that's what Winfried Vahland, chairman of Skoda Auto, wants to deliver to Chinese consumers of the brand.
"It's our future track. Skoda is one of the only four existed automobile brands born before 1900. I believe the brand will be more emotional, confident and dynamic," said Vahland.
"We will have a stronger voice to make our target clear."
The Czech brand - also a part of the Volkswagen Group - changed its brand positioning from low profile to aggressive through a series moves in product design, technology and customer communications.
The launch of the new concept car VisionC - developed by a team led by Skoda's chief designer Jozef Kaban -is a demonstration of such a change.
Vahland said that the VisionC concept solution developed at Skoda's headquarters also "fits for the Chinese market".
"The five-door coupe features expressive styling and dynamic elegance and Chinese consumers will see the similar design elements in locally produced Fabia and Superb models in the future," said Vahland.
In 2013 China was Skoda's largest market with 227,000 vehicles snapped up across the country.
This was a slight decline from 235,700 units in 2012 - the best year in history due to product updates.
However, "we are still on the move to our target of selling 500,000 units in China in 2015, with aggressive new product offensive", said Vahland.
Product offerings
The former president and CEO of Volkswagen Group China, Vahland hoped to accelerate the brand's development in China, "first in product offerings".
After localization of Rapid and Yeti in 2013, the new Octavia will start production in Shanghai in the first half of the year and is set for launch in mid-2014.