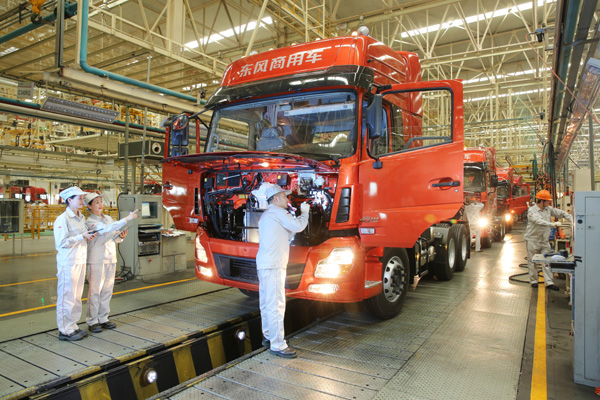 Dongfeng is expected to expand its presence in more overseas markets through its collaboration with Volvo. [Photo provided to China Daily]
Chinese automaker Dongfeng Motor Corporation is now another step closer to its dream of selling its trucks in more overseas markets after it established a joint venture with Sweden's Volvo Group on Jan 26.
Volvo holds 45 percent of the newly founded Dongfeng Commercial Vehicles Co Ltd, which has registered capital of 9.2 billion yuan ($1.4 billion) in Shiyan, Hubei province. The deal cost Volvo 5.5 billion yuan and it took two years to gain approval from both Chinese and European authorities.
Huang Gang, general manager of the joint venture, said the top management is ready to work immediately as a strong team as they have known each other for two years.
Four members of the joint venture's board of directors, including the chairman, are from Dongfeng, while Volvo appointed the rest.
Huang said the joint venture would develop, manufacture and sell Dongfeng brand vehicles, including heavy-duty and medium-duty trucks, large and mediumsized buses, special purpose vehicles as well as their chassis, engines and transmissions.
Volvo will provide technological support and share its global sales experiences, said its president and CEO Olof Persson. He said a deal was made to transfer Volvo's technology for manual transmissions for heavy-duty trucks into the joint venture. He added that these would be produced in Shiyan.
"We believe that in 10 to 15 years Dongfeng will deliver the best and latest technology to customers in the Chinese and overseas markets," said Persson.
The two sides have created a three-step roadmap for the joint venture: to consolidate Dongfeng commercial vehicles' leading position in the Chinese market, to establish a solid presence in key overseas markets and finally to make Dongfeng a globally recognized brand.
Dongfeng is one of the largest commercial vehicle makers in China.