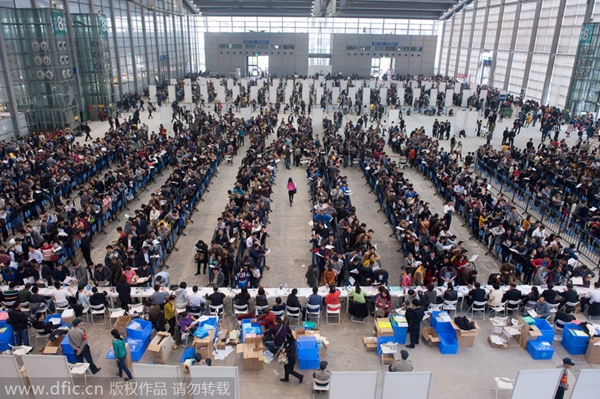 Shenzhen residents and car dealers line up to notarize car purchase documents before applying for plates on Jan 5, 2015 after city government announced a car purchasing restriction requiring prospective buyers to acquire new car plates by lottery or auction on Dec 29, 2014. [Photo/IC]
BEIJING -- China added a record 17 million new cars on the road in 2014 as car ownership reaches 154 million, said the Ministry of Public Security on Tuesday.
Strong demand for cars has helped the automobile replace the motorcycle as the main method of transportation. Cars made up 58.6 percent of total motor vehicles, a sharp rise from 43.9 percent five years ago.
The number of people obtaining driving licenses also ballooned from 219 million in 2013 to 247 million as of the end of 2014, said the ministry, adding 29.7 million drivers have fewer than one year's driving experience.
Of the 35 cities which have more than one million cars each, ten have more than two million cars, including Beijing, Chengdu, Shenzhen, Tianjin, Shanghai, Guangzhou and Chongqing.
The ministry said the number of passenger cars has reached 117 million, 90 percent of which are private cars. Beijing has the highest private car penetration, with 63 private cars for every 100 households, while the average is 25 private cars for every 100 households.
Carmakers have enjoyed strong sales over the years, with more middle-class customers placing orders for their first cars. But with frequent traffic jams, it is yet to be seen whether cars can still ride the booming tide in the years to come. More local governments have begun to limit car use, among them eight cities have quotas for new car plates.