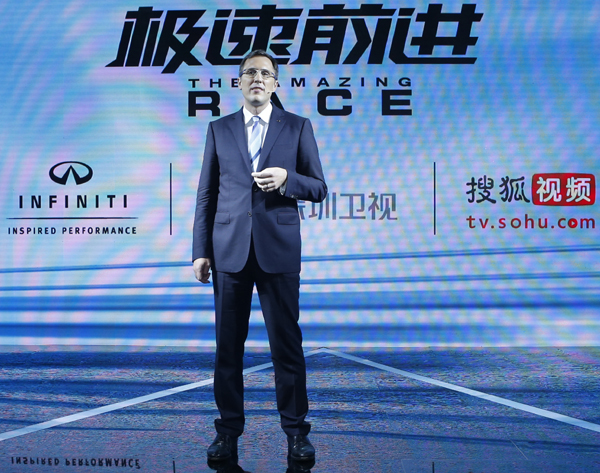 Infiniti China Managing Director Daniel Kirchert introduces "The Amazing Race " reality show at the launching ceremony in Beijng on July 3, 2014. [Photo provided to chinadaily.com.cn]
China Daily website interviewed Infiniti China Managing Director Daniel Kirchert after the launching ceremony for 'The Amazing Race in China', the company's latest co-produced TV reality show.
Q: How long did you discuss plans to co-produce 'The Amazing Race in China' with Shenzhen Media Group? How does this program introduce the brand concept "Gan Ai"? (Gan means challenging and daring spirit, Ai represents love).
Daniel Kirchert: It has been six months since we started discussing this cooperation. We are working with Shenzhen Media as a "co-producer". Although The Amazing Race has been very successful in the US, we did a lot of research to see if we needed to incorporate some changes for the Chinese market. The show in America fits the spirit of "Gan Ai" very well as it includes elements like facing unknown challenge, daring to break through on your own, coordination with your fellow players, and amazing stories and memories.
Designing The Amazing Race with Shenzhen Media, on the one hand, is a great opportunities to build it as a successful TV reality show (in China). On the other hand, this program is a platform for potential customers and users to experience the brand spirit.
Q: How do you attract more people to come to experience the product through offline activities? Infinity has held activities very frequently this year. What has been the response?
Kirchert: Infinity Amazing Race (in China) is a good platform for Q50. We plan to attract 8,000 people and if online applications surpass that number then that would be a great achievement. We plan to target more than 20,000 people through our marketing campaigns this year.
In a reality TV show 'Where Are We Going? Dad' (season one), we introduced QX60, a model that was our focus, and now we will launch its hybrid power version soon. The reality show boosted the sales of QX60. By sponsoring the second season, we are sure that the sales will go up further this year.
Q: The Amazing Race mainly use Infinity Q50 2.0T model. How would you make a campaigns for this product?
Kirchert: In April, new high-tech luxury sport sedan Infinity Q50, including five models equipped with two engines Q50 3.7 and Q50 hybrid power, was officially imported to the Chinese market. In the third quarter, Q50 2.0T will be delivered to dealers and will start selling officially. It is the best seller among all the Q50 models. We are very confident about Q50's future in China. We particularly use Q50 2.0T in The Amazing Race to let consumers participate in this fantastic show and experience the products.
Q: What is the target market of participants?
Kirchert: Participants or winners don't have to be well-trained drivers, but they can experience and understand the products through the race. The Q50 is aimed at consumers with young spirit. People who like challenges, sports, and something interesting. They like this car because of its beautiful body and advanced technology, which fit target customers very well.
Q: American version has been operating for many years. The biggest difference between the Chinese and American version is participant's public auditions. In how many cities do you plan to hold auditions?
Kirchert: We will cover 50 cities, 50 dealers and 8,000 people are expected to participate in the audition. Online applications we will receive may well exceed this number. Although we will be unable to accept all the applicants to take part in the race, we will widen the scope next time if this show gets a good result.
Q: Many carmakers are sponsoring reality shows, what is the biggest difference between Infinity and other sponsors?
Kirchert: I have not studied other sponsor brands particularly; I think the biggest difference of Infinity is to connect with offline activities, make it as an experience platform, rather than package it as just a commercialized sponsor, which some people dislike. Making people receive it as a natural topic is the best way.