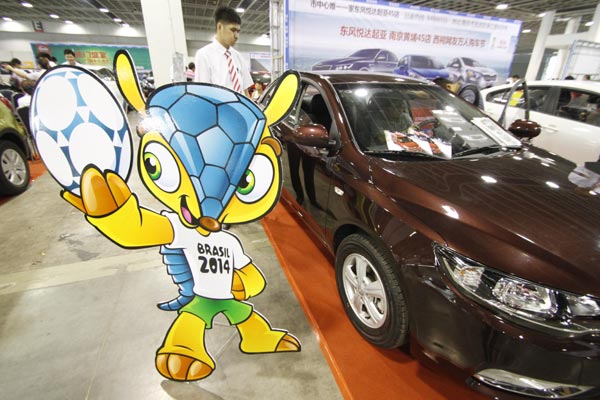 Dongfeng Yueda Kia is offering car buyers the chance to watch the World Cup in person and organizing amateur soccer teams in China. Photos provided to China Daily
Sponsorship, special events ride the tide of soccer passion
As the month-long World Cup enthralls millions of Chinese football fans, automakers and component manufacturers have a range of plans to join the surge.
One of the most common moves is to sponsor a national team as a good performance in the World Cup means vastly greater exposure.
Though it sounds like gambling, sponsorship attracts automakers known for their business sophistication.
Among others,Mercedes-Benz has scored with the German team.
It even interacted online with BMW to cheer the German footballers on when it fought against the Portuguese on June 16.
On the same night, Audi invited fans to watch the game on TV after it unveiled its new model RS7 in Beijing.
But the luckiest automaker could be Chery, sponsor of the Chilean team that made it to the knockout stage with an almost-unbelievable victory over Spain.
Auto analyst Luo Lan said it will help Chery lift its profile in Chile and other South American countries.
Hyundai offered something tangible before the World Cup even started.
Beijing Hyundai offered those who test-drove and purchased a Hyundai in April and May the chance to watch the FIFA matches in Brazil though a lucky draw.
From May to July buyers received a World-Cup themed souvenir. "Automakers can build a more proactive image by associating with sports events, an image closer to potential customers' emotional needs," said Wu Zhoutao, deputy general manager at Beijing Hyundai.