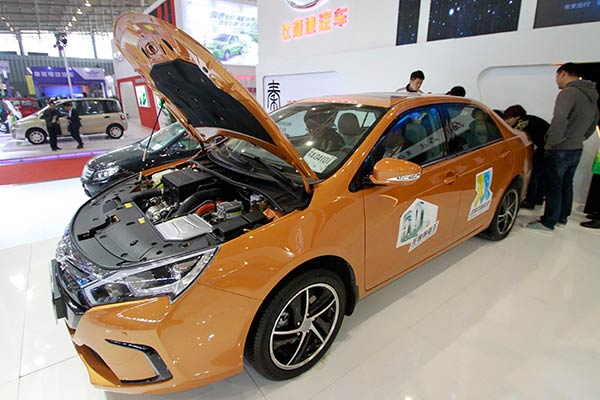 A high-end electric model of China's private carmaker BYD Co. The company's net profit slumped in the first quarter compared to a year earlier, but it expects an improvement for the first half, betting on the country's wider adoption of electric cars and its electric vehicles for public transportation. [Provided to China Daily]
China's private carmaker BYD Co, backed by Warren Buffet, posted on Thursday a slump in first-quarter net profit compared with a year earlier. Net profit plummeted nearly 90 percent to 12 million yuan ($1.9 million) in the first three months, while revenue was 11.7 billion yuan, a drop of 9 percent from a year earlier.
The Shenzhen-based company is betting on wider adoption of electric cars and electric public transport vehicles for first-half improvement. It said in a statement that revenue from the traditional auto business dropped due to weak demand and a sluggish economy.
The electric car and mobile phone assembly sector is likely to grow and help cover this year's loss as a result of a new electric vehicle subsidy policy.
China's government boosted incentives for electric-car use in February. Subsidies will fall by 5 percent in 2014, rather than the 10 percent it previously announced and it cut them by 10 percent in 2015, instead of 20 percent. China will continue to subsidize electric vehicles after the current program expires at the end of 2015.
In addition, BYD's solar energy business is starting to recover as the global solar industry rebounds from a two-year slump, according to the statement.
BYD, listed in Hong Kong and Shenzhen, has struggled to develop its green cars. It received a government subsidy of 98.4 million yuan in the first quarter but cash flow from operating activities was a negative 1.1 billion yuan, swinging from a net cash flow of 740 million yuan a year earlier.
After the release, BYD's Hong Kong shares closed down 1.6 percent to HK$46.9 ($6.05) while its Shenzhen-listed shares closed up 1.94 percent to 46.1 yuan.
BYD's results come in the same week as US electric carmaker Tesla made its first delivery of eight vehicles of all-electric and zero-emission sedans to customers in China.
China's government is considering reforming taxes for electric cars, which may include more favorable import duties, Wan Gang, Minister of Science and Technology, said on Friday. The worry for domestic electric car manufacturers is they may face even fiercer competition from overseas rivals as a result.
In late February, BYD got the go-ahead to launch its flagship new-energy models including all-electric car E6 model and a plug-in hybrid car called Qin in Beijing and Shanghai.
Local governments can use their own trade barriers to protect their 'green' vehicle industries.