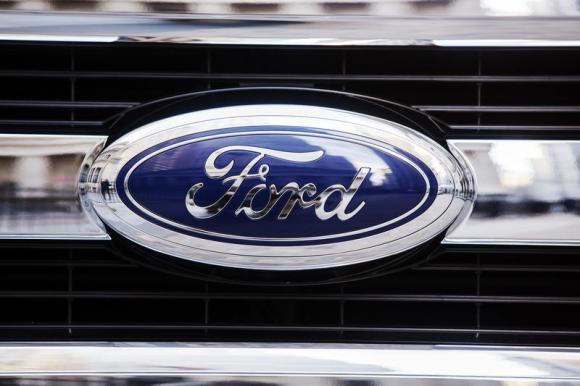 A Ford logo is seen on the grill of a 2015 F-150 truck outside the New York Stock Exchange in the Manhattan borough of New York, January 13, 2014. [Photo/Agencies]
DETROIT - Ford Motor Co is betting that the tight bond between two of its senior executives can help the automaker prevent quality missteps from derailing its busiest-ever year for launching new vehicles.
Joe Hinrichs, head of North and South American operations, and Raj Nair, Ford's global product development chief, are two of the key players in what has been an all-out push to stamp out problems that have dogged the automaker in the last few years.
At stake are Ford's credibility and profitability as it embarks on an ambitious plan to introduce 23 new vehicles - the most in one year in company history - around the world this year.
These include a radical revamp of its most profitable vehicle, the top-selling F-150 pickup truck, which was unveiled at the Detroit auto show last week. The new version uses less steel and more aluminum.
"We have a lot more new product and a lot more new launches than we used to have," Hinrichs said in interview on the sidelines of the auto show. "We know how important these launches are."
In the last few years, Ford has tumbled in key reliability surveys due to problems with its touch-screen dashboard system and some of its transmissions. It conducted seven recalls of its Escape crossover since its mid-2012 launch, which may have led to warranty costs of as much as $300 million in 2013.
As part of the redoubling of Ford's effort to prevent quality woes, Hinrichs and Nair are drawing on their experience working together in North America and Asia for the last dozen years.
Both helped shape Ford's restructuring in North America in 2005 and 2006, when Chief Executive Alan Mulally came on board to steer the automaker's turnaround. In late 2009, they went to Shanghai and spent the better part of a year away from their families to replicate Mulally's "One Ford" plan - which unified formerly disconnected business units to gain economies of scale - - in Asia and improve quality.
The two now conduct high-level reviews every month or so of all major programs to pinpoint potential problems, a practice that will continue throughout 2014.
Over the years, the two have developed an almost intuitive understanding of the other's perspective, Hinrichs and Nair said in a joint interview late last year.
Their strong rapport allows them to divvy up duties and work more effectively, they said. So when a scheduling conflict arises, they are comfortable if one of them has to miss a launch review as long as the other person is in the room.
"When we look at something, 99 times out of a 100, we're both seeing the same thing," Nair said. "A lot of times, we both don't have to be there because of that."
Then Hinrichs jumped in: "Which is important because there's only so much time in the day."