High-performance brand unveils models at star-studded event
As night fell on the Pearl River, crowds arrived in droves for the 2013 AMG Driving Awards.
AMG, the high-performance division of Mercedes-Benz, hosted and brought its best in high-performance luxury to Guangzhou.
The highly anticipated C 63 AMG Edition 507 was launched with two model variants, taking the stage to the delight of supercar enthusiasts.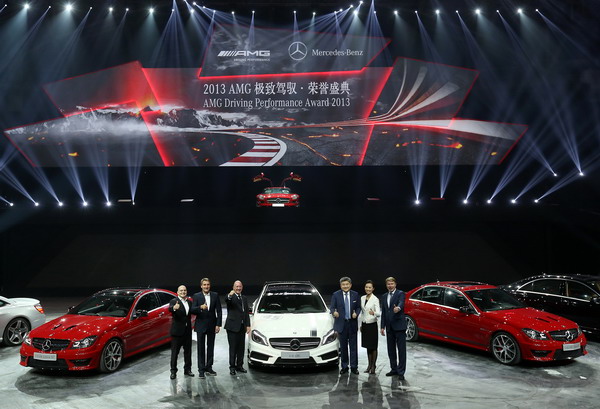 From left to right: Markus Henne, head of AMG China, Bernd Schneider, five-time DTM champion driver, Nicholas Speeks, president and CEO of BMBS, Fred Duan, executive vice-president of Sales and Marketing at BMBS, Freda Wang, head of marketing for BMBS, and two-time Formula One World Champion Mika Hakkinen, posed in front of the AMG family at the 2013 AMG Driving Awards. [Photos Provided to China Daily] 
The A 45 AMG - AMG's first ever high-performance compact vehicle - was also on hand for a sneak preview.
"As the performance and engineering division of Mercedes-Benz, AMG has become the world leader in high-performance luxury vehicles and our product line has grown to include saloons, roadsters, SUVs, convertibles and coupes," said Nicholas Speeks, president and CEO of Beijing Mercedes-Benz Sales Service Co Ltd.
"Mercedes-AMG will continue to add to its 46-year legacy as it works to continue to lead the world of high-performance automobiles, and ensure that each customer experiences the full excitement of AMG Driving Performance."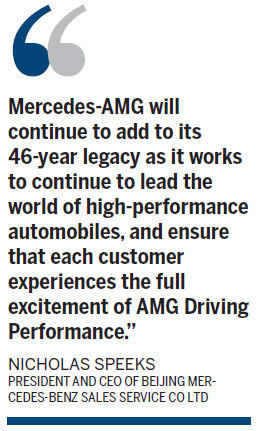 This commitment was fully evident from the moment the C 63 AMG Edition 507 took the stage.
True to name, the C 63 AMG Edition 507 boasts a power output of up to 507 hp (373 kW).
Its outstanding 6.3L V8 engine provides superb power and an equally excellent peak torque of 610 Nm, while allowing it to reach speeds of up to 280 km/h (electronically limited).
The vehicle can also accelerate from 0 to 100 km/h in only 4.2 seconds - 0.2 seconds faster than before.
On the outside, the C 63 AMG Edition 507 is unmistakably AMG. An arrow-shaped front end looks robust and tough, while the bonnet features two glossy black air intakes to help with heat dissipation.
It also features side mirror casings, AMG racing stripes in matte graphite gray and darkened headlamps to create an undeniably sporty feel.
Inside, two interior design options further showcase AMG's renowned quality.
A red-tinged instrument cluster differentiates this variant from other C 63 AMG models, while a high-gloss Black Piano Lacquer trim and "Edition 507" badge on the front passenger side add a final touch of charm.
The launch of the vehicles implies great value for the customers on top of the enhanced product characteristics, with attractive pricing at 1.148 million yuan for the sedan and 1.198 million yuan for the coupe.