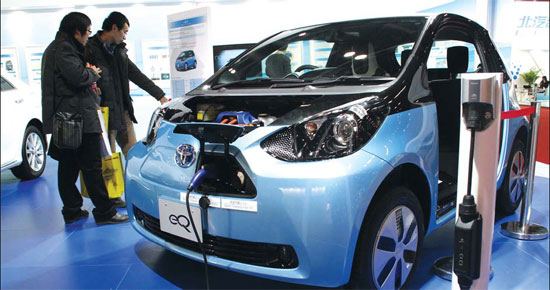 Visitors examine an electric car and charging equipment at an exhibition in Beijing. In July China's State Council called for the automotive industry to move quickly toward more efficient cars with lower emissions and fuel consumption. Wu Changqing / For China Daily
Editor's note: China Daily motoring writer Han Tianyang takes a look back at what moved the market and made the news over the past 12 months.
Single-digit growth
In the first 11 months this year, China's car sales totaled 1.75 million units, a 4 percent increase from a year ago, according to China Association of Automobile Manufacturers.
Passenger vehicles sales hit 1.4 million between January and November, rising 7.1 percent year-on-year, while commercial vehicle sales fell by 6.8 percent to 3.5 million units.
Full-year auto sales are projected to reach 19 million vehicles, the association said, the second consecutive year of soft, single-digit growth.
China's auto sales increased 2.45 percent last year to 18.5 million vehicles, the lowest growth in a decade. New vehicle purchases soared 46 percent in 2009 and 33 percent in 2010.
Japan's brands slump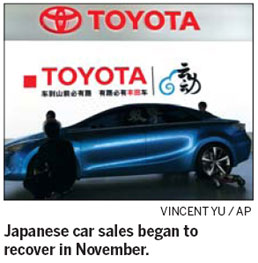 Japanese carmakers vowed at the beginning of this year to make a turnaround after an earthquake and tsunami dampened growth in 2011. But a territorial dispute with China over the Diaoyu Islands hit their sales even harder than natural disasters.
According to the latest statistics from CAAM, the combined sales of Japanese brands in the first 11 months plummeted 33.5 percent from a year ago due to a customer boycott following the diplomatic row.
Consultancy IHS Automotive said Japanese carmakers' production will fall by about 350,000 vehicles this year, though November sales showed signs of recovery.
Responding to concerns the incident will make Japanese carmakers reluctant to invest in China, Toyota executives said at the Guangzhou auto show last month that their strategy in China will not change. But a Japanese newspaper recently reported that Toyota will postpone construction of new production lines in Tianjin and Guangzhou.
Plate limit in Guangzhou
The Guangzhou city government in July announced it will limit new car sales by issuing only 120,000 license plates a year, becoming the fourth city on the Chinese mainland to implement measures to fight traffic congestion and emissions. Shanghai, Beijing and Guiyang, the capital of Guizhou province in the southwest, have already adopted similar restrictions.
Guangzhou's new car sales are expected to decline significantly under the new policy, as the city registered 330,000 new vehicles last year, nearly three times the new quota.
Industry observers note more cities are likely to take a similar approach.
The move is part of Guangzhou's plan to improve transportation, said the local government, adding new subways will be built along with the addition of more bus routes.
VW's DSG transmission
Riding high in China for the past four years, German auto giant Volkswagen Group hit a bump in 2012 due to its slow reaction to consumer complaints about problems with Volkswagen's much-lauded, high-tech dual shift gearbox. Complaints were raised as early as in 2009, but it was only this year that the company provided a free software update at its dealerships and extended the warranty on the transmissions to restore consumer confidence.
Though the company would not confirm it, the problem is widely believed to have triggered the departure of former Volkswagen China chief Karl-Thomas Neumann.
Jochem Heizmann took office as the new president and CEO of Volkswagen Group China in August. He reaffirmed confidence in the transmission, saying the company will continue to use it globally. On Aug 31, Volkswagen started building a DSG transmission plant in Tianjin, its second in China following an existing factory in Dalian.
Low-emission blueprint
China's State Council in July called for the automotive industry to move quickly toward a low-emission future.
Its development plan set a target of 500,000 units in production and sales of all-electric and plug-in hybrid vehicles by 2015 and a total of 5 million units at the end of the next decade.
The plan also said average fuel consumption of all passenger vehicles made in 2015 should fall to 6.9 liters per 100 km and to 5 liters per 100 km in 2020.
For energy-efficient passenger vehicles, the average fuel consumption target is 5.9 liter per 100 km in 2015 and 4.5 liters in 2020.
Unified Daimler sales
German carmaker Daimler AG established a 50-50 joint venture with its Chinese partner Beijing Automotive Group in December to unify sales management for both imported and locally produced Mercedes-Benz cars.
The new Beijing Mercedes-Benz Sales Service Co Ltd will consolidate previous separate operations that partly hindered the brand's growth in China.
The company also announced that it plans to introduce 20 new or upgraded models to the Chinese market in the next three years and add 50 new dealerships every year to boost sales.
Rare linkup of rivals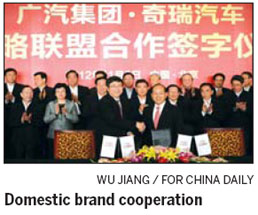 As competition intensifies among domestic carmakers in an increasingly crowded market, cooperation between rivals is rare. But this year saw an important breakthrough in cooperation between State-owned carmakers when Guangzhou Automobile Group and Chery Automobile Co joined hands in a strategic partnership in November.
Both companies said that they will work together in a wide range of areas including R&D, overseas businesses and production management, but no detailed plans were announced.
JLR-Chery joint venture
The newest Sino-foreign auto joint venture was approved in China as British luxury automaker Jaguar Land Rover tied the knot with Anhui-based Chery Automobile Co to make premium vehicles and engines.
Construction on the new joint venture facility broke ground last month. It will have a designed capacity of 130,000 vehicles and the same number of engines when operational in 2014.
Local production will help Jaguar Land Rover ramp up sales even further in China and also assist Chery in progress toward it long-avowed goal of making higher-end vehicles, analysts said.
Jaguar Land Rover sold about 65,000 vehicles in the first 11 months in China, a 75 percent surge over the same period last year. Its total 2012 delivery is expected to hit 700,000 units.
Recall regulation
China's State Council released a new regulation governing vehicle recalls in October that will take effect at the turn of the year.
Compared with the current provision formulated in 2004 that lack significant sanctions, the new law has stricter penalties to better protect consumer rights. When the new regulation is in force, a carmaker found to conceal a known defect or refuse to recall defective vehicles will face a maximum fine equal to 10 percent of the total value of affected products or even have its business license revoked.
First overseas recall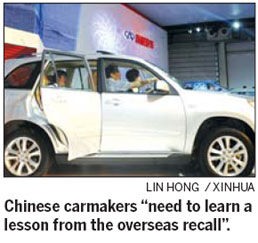 Chery Automobile Co and Great Wall Motor, China's two largest vehicle exporters, in August began recalling the majority of their cars sold in Australia after authorities found potential cancer-causing asbestos in several models. Affecting more than 22,000 vehicles, it marked the first-ever large-scale recall by Chinese carmakers overseas.
Analysts said Chinese carmakers need to learn a lesson from the recall and ensure their products abide by different standards and regulations in various countries.
In such crucial areas as quality, safety and environmental impacts, the standards in Western markets are stricter than at home, they said.
Overseas acquisitions
Chinese companies showed increasing interest in buying overseas assets in the automotive sector in the past few years. In 2012, their acquisitions continued.
After a failed attempt to buy Swedish brand Saab in 2011, China's privately owned car and bus maker Youngman Automobile Group in August agreed with Saab's former owner Spyker NV to acquire a 29.9 percent stake in the Dutch company and form two joint ventures with it to produce premium vehicles.
Dongfeng Motor Corp, China's second-largest auto group by sales, agreed in October to buy a 70 percent stake in Sweden's T Engineering AB. The company's first overseas acquisition is expected to help boost its R&D capacity.
Most recently, China's largest auto parts manufacturer Wanxiang Group beat out other bidders on Dec 9 in the auction of bankrupt US battery maker A123 Systems for a price of about $250 million.
Largest Ford expansion
As a latecomer to China, Ford Motor Co is moving to make up ground when it started its largest expansion in 50 years in a bid to catch Volkswagen and General Motors, the current market leaders.
It began construction on its third Chongqing plant in August, then later that month broke ground on a new plant in Hangzhou. It also has an engine and transmission plant under construction in Chongqing.
The expansion will double the company's total production capacity in China to 1.2 million vehicles by 2015. Ford also plans to expand its dealership network to 680 outlets by 2015, double the number in 2010.
In a move to facilitate the ambitious plans, it recently formed a new joint venture with China's Chang'an Automobile Group after a former three-way partnership between Ford, Chang'an and Mazda was split apart.
Hongqi reborn
A new version of the Hongqi - or Red Flag, the now-legendary car once made for national leaders by FAW Group - rolled off the production line in Changchun in July, marking the carmaker's latest effort to revitalize the brand after failed attempts in the 1990s and a decade later.
The car will first compete with foreign premium vehicles in government procurement and later enter the private market, according to previous media reports.
FAW said it will invest 10.5 billion yuan from 2011 to 2015 in R&D on the Hongqi, with more models expected in the next few years.