High prices, dearth of recharging stations put the brakes on electric vehicle sales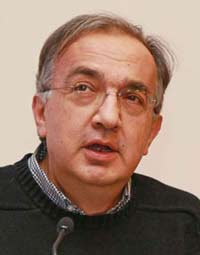 Sergio Marchionne is CEO of Fiat SpA. [Photo/China Daily]
After several unsuccessful attempts, Chinese automakers are no longer hedging their future on
electric car
s, but instead looking at it as a realistic option to achieve their green goals.
Though there are still the occasional new electric car launches, they are no longer the most awaited events by automobile, new technology enthusiasts. It is evident that high prices, limited range, reliability and dearth of recharging stations have put the brakes on the growth of an industry that was supposed to champion China's high-tech dreams.
Wang Binggang, director of the supervision and consultation group of the National 863 Key Project of Energy Conservation and New Energy Automobiles, says that it is not the technology that makes electric cars hard to roll out, but effective commercialization strategies.
What makes the case of electric vehicles even stranger is that the tepid response comes in spite of several government incentives to push sales.
Government subsidies for electric cars are up to 123,000 yuan ($19,700, 15,300 euros), comprising a grant of 60,000 yuan coming from the central government and a subsidy of up to 63,000 yuan from the local government for the individual purchases of an electric car.
Besides the financial incentives, the government has also introduced other policies like free license plates in cities with purchase restrictions (people need to draw lotteries for license plates in cities such as Beijing and Guangzhou.
The disparity between the passionate government and the cold market reception has also raised serious doubts on whether electric vehicles really save the environment or not.
The company Fiat SpA cites a research published by the Norwegian University of Science and Technology that electric vehicles have twice the potential to damage the environment than traditional automobiles, due to greenhouse gases created during the processing of the batteries. Besides, toxic metals are also generated during the process, it said.
Young-Sup Joo, managing director of the Office of Strategic R&D Planning for Core Industries under the Korean Ministry of Knowledge Economy, had in a recent auto forum remarked that that there are several better alternatives to electric cars. "There are four ways to address the environmental problem - hybrid, electric, diesel and fuel cell."
Chen Qingtai, a research fellow at the Development Research Center of the State Council, says that he had suggested to the Chinese government the need for having more diesel engines. The proposal, says Chen, could not go ahead as China did not have adequate diesel supplies.
Sergio Marchionne, chief executive of global automaker Fiat SpA, says that the logistics and energy industries must work together to ensure a viable future for new energy cars.
"Technicians should have a clear mind on electric vehicles, as it is just one of the possible solutions. Decision-makers should combine multiple methods to reduce pollution and stave off an impending global warming crisis."
Fiat has invested a large amount of money to develop electric vehicles, and will work jointly with US automaker Chrysler to produce the electric model Fiat 500 by the end of the year.
Marchionne, however, admits that the joint venture will not be financially rewarding for both companies. "The company will lose $10,000 for every Fiat 500 produced. If we produce the vehicles on a large scale, it will prove to be disastrous."
He admits that there is no existing market for electric vehicles, and even after 10 years, the market share of electric vehicles will not exceed 5 percent.
"Even with the financial incentives, Europe only sold 6,500 electric vehicles during the first six months of this year, or in other words just 0.1 percent of the total auto market," he says.
Under these circumstances, hybrid electric vehicles seem more practical and already Western automakers are using them to test the waters in China.
Jochem Heizmann, president and CEO of Volkswagen Group China, says they will import plug-in hybrid electric vehicles to China and later produce them locally.
The company plans to produce electric vehicles in China by 2015, with the first batch of products to be sold in Beijing before being expanded nationally.
While the prospect of individual purchases is still dim, the future for electric buses is relatively bright.
According to Ouyang Minggao, director of the State Key Laboratory of Automotive Safety and Energy at Tsinghua University, there are 1,500 electric commercial vehicles operating in China, the largest electric vehicle fleet in the world, while more than 2,000 EVs are doing pilot operation in 25 cities. The government has so far built 170 charging stations across the nation and plans to expand this further.
The government is trying to give a new direction to automakers by introducing new energy requirements. In recent years, it has made it mandatory for new plants set up outside their bases by joint venture companies to produce new-energy vehicles.
SAIC-Volkswagen is responding to this call by developing electric vehicles, but the models are still under development. The company is expected to shift from the development phase to pilot operations soon.
Joo says the situation for electric vehicles will improve with the technology evolution. "The falling costs for essential components like the battery does make the commercialization of electric vehicles a possibility in the near future. In 2010, component costs during the lifetime of a battery was around $1,000 a mile. This fell to $700 in 2011 and I expect it fall to around $300 by 2018."
"By then companies would also be no longer dependent on government subsidies for sales," Joo says.
wangchao@chinadaily.com.cn