Instead of slashing prices, German luxury carmaker Audi AG vows to speed up localization of new products to continue its reign over the premium segment of the world's biggest vehicle market.
Chairman Rupert Stadler said during the recent Paris auto show that the company will have to be faster than competitors in new product localization to maintain its success in China.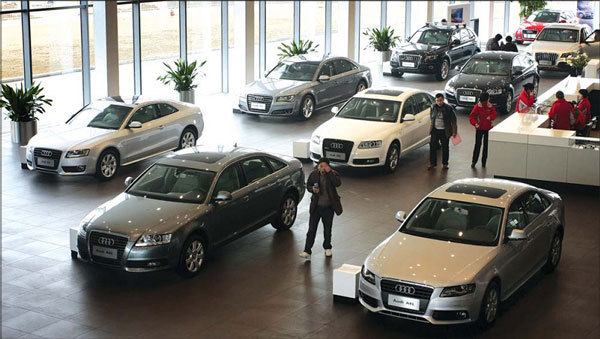 An Audi dealership exhibits the brand's full portfolio, a diverse range on offer to its largest market in the world. [Photo / Provided to China Daily]
Audi will introduce the Q3 compact SUV and A3 compact sedan in China through localization of the entire production chain, ranging from development to sourcing, production and sales, Stadler said.
Audi's plan calls for the Q3 to be made at Sino-German joint venture FAW Volkswagen's plant in the northeastern city of Changchun at the end of 2012.
Local A3 production will begin next year at the joint venture's new factory in Foshan in South China's Guangdong province.
"We are also arranging development of future products for the Chinese market together with FAW Volkswagen," Stadler said.
Audi has a 10 percent stake in the joint venture, with its parent Volkswagen Group holding 40 percent and the rest held by Chinese automaker FAW Corp.
He said Audi is studying feasibility of putting an A6 plug-in hybrid sedan on the Chinese market with FAW Volkswagen.
Mainly propelled by locally made models, Audi's China sales surged by 32 percent year-on-year to 294,952 vehicles in the first three quarters of the year.
The number includes a total of 237,149 locally built A6, A4 and Q5 vehicles, a rise of 29.4 percent from the same period last year.
The robust performance maintained China as Audi's biggest single market, accounting for more than a quarter of its global sales in the period.
Sales of Audi's imported models in China soared by 42 percent to 57,803 units in the first nine months, including 13,620 all-new A8 limousine and Q7 large SUV vehicles.
Responding to massive price cuts by competitors in China, Stadler emphasized that Audi "will not be involved in price wars to boost sales".
"Price wars will do harm to our brand value. Customers will be unsatisfied with it," he said.
Mercedes-Benz cut sticker prices in China at the beginning of the year, a move soon followed by BMW.
Stadler attributed price competition to the slowing pace of the market and surplus overall production capacity.
"Our dealerships inventories in China are at a normal level. It will get nowhere to continue to increase their inventories," he said.
In the first nine months, BMW Group's sales in China, including Mini, jumped by 33.5 percent to 237,056 units. China sales of Mercedes-Benz Group, including smart and Maybach, rose by 9 percent to 152,480 units.
Audi announced earlier this year that it planned to double its production capacity to 700,000 units annually by 2015.
gongzhengzheng@chinadaily.com.cn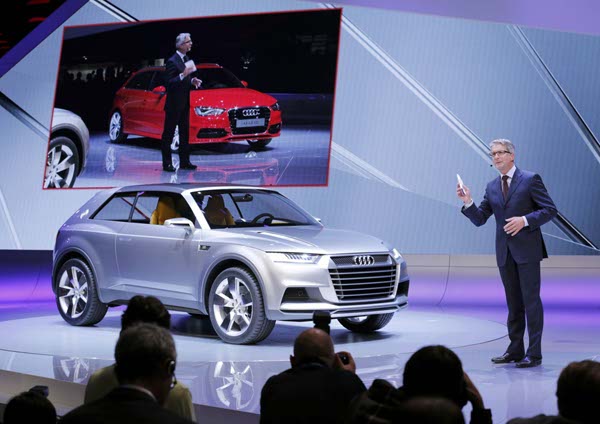 Audi Chief Executive Officer Rupert Stadler stands next to an Audi A3 car while addressing reporters on media day at the Paris Mondial de l'Automobile September 27, 2012. The Paris auto show opens its doors to the public from September 29 to October 14. [Photo / Agencies]