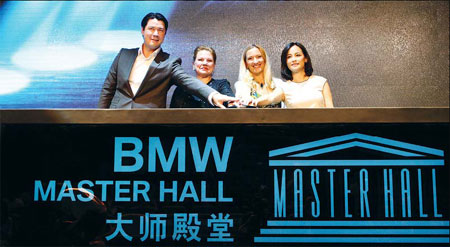 Alice Mei (right), vice president of Marketing at BMW Brilliance Automotive Ltd launched BMW Master Hall with artists last Friday.
 German luxury car icon BMW has always been synonymous with high culture and the pursuit of the finer things in life.
This image was on display at BMW's top-class art sponsorship program, known as the BMW Master Hall, which kicked off in Guangzhou Opera House last Friday.
With a logo shaped like a performance hall, the BMW Master Hall will cover BMW's sponsorship on world-class performances and cultural exchange programs in the areas of dancing, opera, jazz music and contemporary art.
"As a brand with a strong sense of social responsibility, BMW has made a long-term commitment in China to promote fine art and boost cultural communication," said Alice Mei, vice president of marketing at BMW Brilliance Automotive Ltd, during an exclusive interview after the Master Hall launch ceremony.
Mei said contemporary art is the leading form of art styles. Opera is rich in humanistic spirit, while dancing and jazz music showcase fine taste. All of these share the characteristics that form the core of BMW's brand identity, such as elegance, fashion and liveliness.
"In the future, BMW will work with the world's art masters to provide a hands-on artistic experience to Chinese audiences through BMW Master Hall. We hope they will experience the charm of fine art and the joy of quality life," Mei added.
Following the launch ceremony, Madame Butterfly, by Italian opera master Giacomo Puccini, was performed at the Guangzhou Opera House.
Daniel Oren, who conducted the performance, is one of the world's most renowned conductors.
"BMW gives people fine cars, while we give them fine art. It's a great pleasure to cooperate with BMW to show the charm of opera to Chinese audience," Oren said.
Soprano He Hui starred in the opera. Born in China's ancient imperial capital Xi'an, He Hui has sung in most of the world's leading theaters, such as the Metropolitan Opera and the Vienna State Opera.
Domestic choreographer Yang Liping's farewell performance is another example of the program's roots in Chinese culture.
The 54-year-old choreographer is widely known for her extremely exquisite depictions of natural beauty. BMW Master Hall supported her 40 farewell performances of Peacock.
Mei said that pure art and pure people have the power to touch the heart. This is what can be found in Yang's works.
Since 2012, BMW renewed a strategic partnership with Guangzhou Opera House.
In addition to Madame Butterfly and Yang Liping's farewell performance, the opera house also sponsored several other world-class performances here in 2012, including the Mark Morris Dance Group from the US, and Jazz star Ute Lemper's Last Tango In Berlin.
On the day of the ceremony, BMW also announced that it signed another three-year strategic partnership cooperation agreement with the Guangzhou Opera House.
Mei told reporters that BMW Master Hall will title sponsor a new concert by the end of 2012.
BMW has long been devoted to supporting artistic and cultural activities in China.
The BMW Culture Journey has entered its sixth year of sustainable efforts to protect Chinese cultural heritage and promote traditional Chinese culture.
This year, BMW's partnership with the Beijing Olympic Committee and support for the London Olympic games has impressed many.
But BMW has "not only focused on the Olympic games itself," said Mei. "Instead, it is devoted to promoting Olympic spirit in China"."BMW hopes to build a connection from heart to heart with the Chinese people to achieve all-around development in culture, sports and other aspects," she said.
She said sincerity is the key to brand marketing.
"If you do the things with your heart, the people can feel it," she told reporters.
She recalled the scene when Dr Christoph Stark, president of BMW China, took to the stage during the BMW JOY Night held at the National Stadium this July.
The president did not make a point to highlight BMW, but rather he told the audience about his experience studying in China in the 1980s. "The best marketing is not talking," she said.
"We want the audience to feel what is joy instead of telling them. They have different feelings - joy, sadness, satisfaction or dissatisfaction. It doesn't matter. What matters is that they somehow have some feeling for this brand."
She went on to say that BMW not only supports those few on top of the pyramid but also pays much attention to nurturing the accomplishments of ordinary people.
It has sponsored an annual art festival called BMW NewFace Exhibition since 2011 to support young artists in contemporary art.
Another university program called BMW Joy Campus has been in place since 2010 with the goal of discovering innovative, talented youth in art, environmental protection and the automotive industry.
xuxiao@chinadaily.com.cn