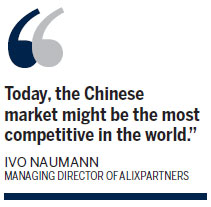 Strong will likely get stronger, domestic firms under pressure
Despite a slowdown in the first half this year, China's auto market is expected to maintain stable growth of 8 to 12 percent annually over the next four years, according to a recent report by consulting firm AlixPartners.
But not all competitors will gain from the growth, as increasingly fierce competition, overcapacity and resulting low vehicle prices will lead to a more polarized market where the strong get stronger and the weak weaker, the report said, noting that local automakers in particular are facing more pressure.
According to the survey, China's auto market still has enormous growth potential due to rising consumer income. It cited statistics that showing 26.8 percent of the nation's total households are expected to have annual income of more than 60,000 yuan next year, up from 19.5 percent in 2010.
At the same time, every 1,000 people in China had just 53 passenger cars by the end of last year. The number in South Korea is more than 200 and in Japan it's nearly 500, the report said.
"In the long run, we do believe that as long as the Chinese economy keeps growing, the automotive industry will also keep on growing," said Ivo Naumann, managing director of AlixPartners and head of the firm's Shanghai office.
"The underlying fundamentals for China's auto industry are still intact," he said.
Now in its fifth year in China, the survey uses data gathered from extensive research and in-depth interviews of senior executives at both foreign and domestic automakers. It found that industry leaders expect annual vehicle sales to grow between 8 to 12 percent over the next four years - a very healthy rate compared with the rest of the world.
But competition is mounting. "Today, the Chinese market might be the most competitive in the world, since there is no other market where you have every global automaker competing as well as many local manufacturers," said Naumann.
"As the industry enters its next phase, there will be a much clearer divide between companies that thrive and those that do not," he said.
The study found that the average utilization of capacity among automakers in China has dropped to 67.3 percent today from 85 percent in 2010. At the same time, a marked split has developed between local manufacturers and Sino-foreign joint ventures.
A factory utilization rate of between 75 to 80 percent is considered the "breakeven zone" for automakers. The survey showed that 16 out of 30 local automakers in the study failed to reach the threshold while just one of the 19 joint ventures was below it.
The result is continued price discounting, especially by those with the most unused capacity, said the survey.
It also found huge differences in dealer performances, with outlets for only one of the six major domestic brands registering average sales of more than 600 vehicles in 2011.
In contrast, almost all joint ventures in the study are above that level and some had sales averages of more than 1,000 vehicles per dealer last year.
"Low sales means dealers put less investment into marketing and showrooms, which can be a vicious cycle leading to lost sales, dealer closures and a bad reputation for car brands," said Naumann.
Domestic carmakers' market share in the first seven months this year was only 28.3 percent, a small decline from the same period last year, according to AlixPartners.
Increase market share disparity is also likely among local carmakers, said Naumann.
hantianyang@chinadaily.com.cn