The B-Class launch event is simultaneously held in Chengdu, Beijing, Shanghai and Shenzhen via satellite broadcasting. Provided to China Daily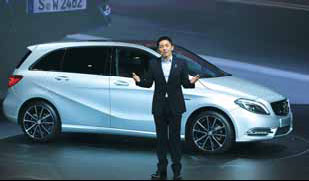 Cai Gongming, vice-president of sales at Mercedes-Benz China, introduces the highlights of the all-new B-Class model.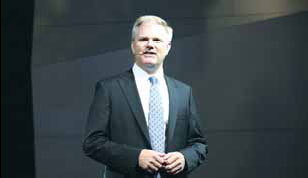 Bjoern Hauber, executive vice-president of Mercedes-Benz (China) Ltd, speaks at the new B-Class launch.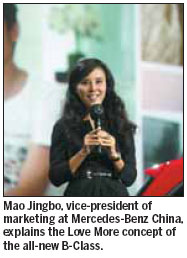 More than just tools for transporting people from one point to another, cars can be expressions of individuality and objects of affection. This is the message Mercedes-Benz seeks to convey with the recent launch of its new B-Class compact car to Chinese customers.
The company officially launched its all-new B-Class luxury sports tourer in China on Friday, offering two models - the B 180, priced at 278,000 yuan ($43,646), and the B 200, at 328,000 yuan.
A national launch event called Love More was held in Chengdu, which was also broadcast live in Beijing, Shanghai and Shenzhen, where regional launches were simultaneously organized.
"With a motto that spells Love More, we are setting out on an experience that reflects what the Mercedes-Benz brand truly is about: fascination, innovation, leadership, creativity and youth," said Bjorn Hauber, executive vice-president of sales and marketing for Mercedes-Benz (China) Ltd.
"'Love' is a universal representation and marks the continuation of the B-Class as the ideal car for young families. 'More' symbolizes the end of the potential struggle of choice between the practical and the trendy, naturally combining and enabling both in a beautiful and multifaceted life," explained Mao Jingbo, vice-president of marketing at Mercedes-Benz (China) Ltd.
In 2005, the introduction of the B-Class created a brand new segment - the luxury sports tourer. Today, almost 1 million B-Class units have been sold worldwide.
When Mercedes presented the first-generation B-Class luxury tourer to China in 2009, the beauty of life was enhanced with a subtheme of love.
"Our customers were actually so impressed that one of them made his marriage proposal based on the TV commercial's creativity, embarking on his own journey of happiness," said Mao. "Now, we are taking our Love theme up a notch with the Love More campaign - a concise and powerful claim that demonstrates a fresh, young and trendy attitude to life."
Mercedes initiated the Young Mercedes strategy in China already in 2007, strongly reinforced by the introduction of the B-Class in 2009, as the German luxury vehicle brand foresaw that smaller cars would be the major driver of the market in the future.
"With the B-Class and the models that will follow in 2013 and beyond, we will demonstrate that a compact Mercedes equally stands for fascination. We call it the New Generation of Compact Cars," said Hauber. "With the introduction of more segment-leading models to China, our rich product portfolio will be further strengthened and diversified, further fueling Mercedes-Benz's sustainable development in the market."
"As the first model of Mercedes-Benz new generation compact car, the all-new B-Class luxury sports tourer embodies a great number of unprecedented cutting-edge technologies from Mercedes-Benz. We have never seen so many new developments introduced all at once to a model change in the history of Mercedes-Benz," said Cai Gongming, vice-president of sales at Mercedes-Benz (China) Ltd.
"The comprehensive technology package applied to the B-Class' drive system, aerodynamic performance, steering and braking as well as drive assistance and safety systems, has made this fascinating model a winner on all fronts. We believe that the all-new B-Class will bring a fresh and enjoyable driving experience and attract more successful young professionals to join our Mercedes-Benz family," said Cai.