Price battles as domestic share continues to slide
Although a slower month than June, light vehicle sales remained stable in July with total volume reaching 1.38 million units, a 9 percent increase compared to the same period last year.
Passenger vehicle sales totaled 1.05 million units, up 10 percent year-on-year, while light commercial vehicle sales showed a weak recovery, increasing 6 percent to 320,000 units.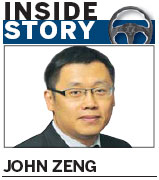 The full-year projection based on July's performance declined slightly to 19.03 million units, 1 percent lower than the estimate in June.
The annualized rate for passenger vehicles decreased by 2 percent to 14.21 million units while the rate for light commercials increased by 2.2 percent to 4.82 million units.
Strong SUV demand continued in July with the total SUV segment rising by nearly 30 percent.
The minicar segment was the worst performer with a 14 percent year-on-year decline.
FAW-Volkswagen, including the brands Audi and Volkswagen, continued to lead the passenger market by selling 115,500 units in July, up 26 percent.
Shanghai GM and Shanghai-VW ranked second and third by selling 102,000 units (up 14 percent) and 94,000 units (up 22 percent) respectively.
But Chinese automakers continue to lose ground in the domestic market.
Local automakers' share of the passenger vehicle market in the first seven months has declined to 28.2 percent, a 2.2 percent drop from the same period last year.
As Chinese carmakers face intensifying competition, they are putting more and more effort in overseas sales. As a result, the export volume from Chinese carmakers continues to surge.
Chery, the biggest auto exporter, sold 19,520 units in July in overseas markets. Its total exports from January and July reached 112,014 units, up 26 percent.
Geely exported more than 10,000 units in July. Its market share in Ukraine reached 7.46 percent, making it the biggest brand from China.
Great Wall sold more than 47,000 units abroad, a 40 percent increase year-on-year.
Rising overseas demand, together with the government's export tax rebate, is helping ease the financial situation for the local automakers.
Great Wall Motor, a major local SUV maker, reported a 30.29 percent increase in net profit in first half of 2012.
While wholesale sales figures remain relatively stable, retail figures are weaker than expected.
As announced by the Ministry of Finance, State revenues from sales tax revenues from vehicles fell by at least 100 million yuan in July compared to last year.
Yet wholesale numbers continued to increase, according to data from the China Association of Auto Manufacturers, a paradox that suggests an increase in inventory levels on the dealer side.
According to a survey by China Auto Market magazine, dealer inventory levels hit a three-year high in July.
Average inventory days at 16 major carmakers rose by 5 percent month-on-month to 54 days.
The level for global brands is estimated at around 45 days, while local brand figures are much higher, up to 98 days.
The quick buildup of inventory levels has triggered a price war among distributors.
Dealerships are now offering as much as 30 percent off for many popular models, and steeper price cuts are likely in the coming months.
Guangzhou's car restriction policy, announced in early July, has caused rising concern that more cities will follow.
On Aug 3, the government of Xi'an in Shaanxi province announced a draft plan that allows it to control the total volume of vehicles, but the government called off the restriction on Aug 9.
Potential restrictions in big cities are still likely to trigger a wave of pre-buying behavior and should help boost passenger car sales in the second half of the year.
Under the current conditions, we are maintaining our forecast for the 2012 passenger vehicle market growth at a rate of 9.6 percent, but highlight the possible downside risk for light commercial vehicles as the authorities may hold off on more incentive measures.
Our sales forecast for light vehicles in 2012 has been adjusted to 2.3 percent, down from the 4.3 percent we forecast in June.
The author is director of Asia Pacific Forecasting at consultancy firm LMC Automotive. He can be contacted at jzeng@lmc-auto.com