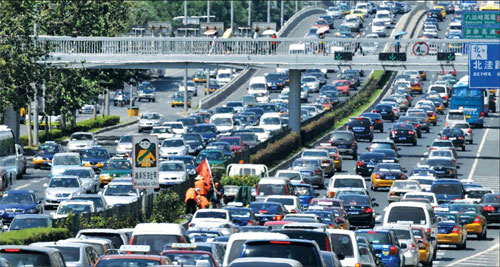 Traffic congestion is a common problem shared by large Chinese cities like Beijing, Shanghai and Guangzhou, where local governments are implementing various measures to restrict the number of vehicles on roads. Fan Jiashan / For China Daily
The government of Guangzhou has decided to emulate Beijing and Shanghai by clamping down on the number of cars on the road.
There is little doubt that this policy will hurt the automotive industry even if it brings about a purchasing frenzy in the short term.
Only two days after the measure was introduced, the market value of two listed companies - Guangzhou Automobile Industry Group and the Shanghai Automotive Industry Corporation - shrank by nearly 16 billion yuan ($2.5 billion).
While these figures leave no doubt about how big a hit the measures will have on the automotive industry, the question is whether a simple step such as restricting licenses can really solve congestion problems in big cities.
First, let us compare some big cities. In Beijing, 4.72 million vehicles, excluding motorcycles, are registered, which is equivalent to 142 vehicles for every kilometer of road. In Shanghai, the figure is 1.72 million vehicles, or 103 per km and in Guangzhou, 1.67 million automobiles, or 116 per km.
Guangzhou is not even among the top cities in China in terms of the number and concentration of vehicles. For example, the concentration of vehicles in Shenzhen is triple that of Guangzhou.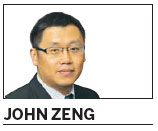 The figure in Japan's Tokyo is even more staggering. Its urban area is only one-third that of Guangzhou and one-ninth that of Beijing. It has three times as many vehicles as Guangzhou and just as many as Beijing. But even with Tokyo's population of more than 13 million, there are seldom traffic jams, even during rush hours.
In addition, Tokyo has none of the measures used in Shanghai, Beijing and Guangzhou, such as alternating the days that people are allowed to use cars and rush-hour restrictions. So how does Tokyo, with the same number of vehicles as Beijing, solve traffic congestion, when its roads are narrower than those of the Chinese capital?
Effective management
First, traffic in Tokyo is effectively managed, and well-developed public transport means people can choose the most logical and convenient ways of getting around.
Figures show that during the morning rush hour in downtown Tokyo, 91 percent of people travel by rail, while only 6 percent use cars.
The strict enforcement of traffic laws by police and Tokyo drivers' strict adherence to the rules means traffic generally flows freely.
The urban areas of Tokyo are only one-third that of Guangzhou, but its road network stretches more than 24,000 km, 1.6 times that of Guangzhou. In addition, Tokyo has 13 subway lines stretching more than 400 km. Such infrastructure is the basis of Tokyo's effective traffic management.
Car ownership in China has soared in the past 10 years or so, particularly in the past three years, during which ownership has doubled.
However, local government traffic management is unable to keep up with the pace of development in the auto market, and public awareness of traffic matters is almost zero.
Even in a metropolitan city like Shanghai, traffic lights are only effective within the city's central ring road area. In the outer ring road area and the suburbs, it is common to see vehicles going through red lights. For non-motorized vehicles and pedestrians, traffic rules exist in name only.
That is why China has a great number of traffic accidents. Last year, more than 230,000 accidents were recorded resulting in 62,000 deaths, which is equivalent to a fully loaded, mid-sized passenger airplane crashing every day of the year, killing all on board.
Strict rules
Shenzhen is a place where the government has made great efforts to bring order to the roads. The city, which has the highest concentration of motor vehicles in the country, 303 per km, is still open to licensing new motor vehicles.
New road traffic rules came into effect nearly two years ago, and infringement penalties are among the highest in the country.
Pedestrians crossing at red lights face fines of 20 yuan, while motorists going through red lights can be fined 500 yuan, with this amount doubling for a third violation. Motorists fined a fifth time for driving through a red light can have their driver's license confiscated. Those illegally changing their number plates so as to mislead traffic cameras face a fine of 50,000 yuan.
When these measures were introduced, they were met with widespread criticism, but within a week of coming into force, speeding captured by traffic cameras fell 60 percent compared with the same period the year before. The incidence of people driving through red lights fell 64 per cent and illegal U-turns fell 98 percent.
It is this kind of approach that has allowed Shenzhen to continue licensing new motor vehicles.
Licensing restrictions not only cannot solve urban congestion but also greatly damage the domestic auto industry. Restricting licenses in Beijing has led to local brands being marginalized in the market there.
After the curbs came in, the market share of local brands halved last year, from 22 percent to 11 percent. At the same time, the market share of imported cars doubled, from 5 percent to 10 percent.
Statistics from the China Automobile Dealers Association indicate that last year, 11 car dealer shops closed in Beijing, most of which sold Chinese brands. At the same time, 14 new car dealers appeared, most of which sold imported luxury cars.
If more cities restrict car purchases, the scope for developing Chinese brands and small cars will be further squeezed. That is contrary to the government policy supporting the local automotive industry and encouraging small-displacement of automobiles.
Traffic congestion has become an increasing problem as China has urbanized. The way to tackle that problem is to improve traffic management and step up construction of infrastructure.
Relying on restrictions is a wrong-headed way of looking at the issue and can only harm the automotive industry and consumers.
The author is the director of Asia Pacific Forecasting at LMC Automotive and you can reach him at JZeng@lmc-auto.com