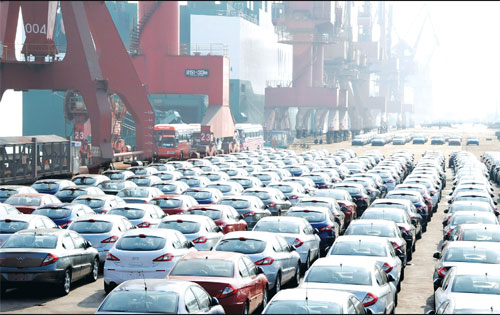 Chery models await transport at Lianyungang Port in Jiangsu province. China's top auto exporter shipped 20,000 cars overseas in June, while Geely hit a new benchmark of 10,000 units. Wang Chun / For China Daily
Despite concerns about overall slowing in China's economy, passenger vehicle sales increased 15.6 percent in June to 1.18 million units, helping boost half-year figures by 8.6 percent over the same period in 2011.
Sales of imported cars surged 21.6 percent.
But light commercial vehicle sales remained weak in June with 383,000 units sold, up just 2 percent, as total first-half sales even dropped by 2 percent.
Our seasonally adjusted projection for full-year sales of all vehicle types remains virtually unchanged from May at 19.35 million units.
The adjusted sales rate for passenger vehicles hit 14.47 million units in June, 3.8 percent higher than the average over the previous five months. Projections for light commercial vehicle sales declined slightly to 4.88 million units, comparable to the average rate over the past five months.
Strong SUV demand was the most important factor in June's strong passenger vehicle sales as the SUV segment surged 40 percent to 219,000 units.
By the end of June the SUV share of the total passenger market had risen to nearly 20 percent, compared to 16 percent at the end of 2011.
The recovery of Japanese automakers from the supply shortage a year ago also contributed to growth. Honda's sales skyrocketed 92 percent, while Toyota's increased 33 percent.
Exports continued to surge in June, increasing to 107,400 units for the month.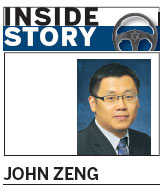 Chery shipped more than 20,000 cars overseas to bring its first-half exports to 92,000 units, a year-on-year rise of 28.8 percent.
The nation's second-largest exporter Geely had a massive increase to 10,000 units in June. Its first-half export growth was an astonishing 210 percent.
The impact from declines in fuel prices was felt in the sub-compact and compact segments whose buyers are thought to be more price sensitive as their sales increased 10 percent and 13 percent.
But more affordable fuel did not help mini car sales, which declined by 18 percent in June.
Light commercial vehicle sales for the month hit 383,000 units, up by only 2 percent as respectable figures by main players Wuling, Chang'an and JAC were unable to counteract the sluggish performance by other manufacturers.
Sales are expected to rebound in the second half following a government announcement in late May that China will soon resume subsidies for farmers who scrap their old pickups for new, light commercial vehicles.
The policy is expected to boost sales in rural areas of vehicles with an engine size below 1.3 liters and could benefit minivan makers such as Wuling and Chang'an.
Guangzhou's limit on new car plates announced on June 30 could actually stimulate sales in the short term as buyers in other cities move their plans forward out of fear similar policies will soon be adopted in their cities.
Over the long haul, however, it will likely dampen the overall automotive market.
Although a major downside risk continues from the European debt problem, which casts a shadow over China's economy, we expect stimulus policies to come out that support growth.
One example is an interest rate cut by the central bank last week, the second in less than a month.
Our forecast for full-year light vehicle sales remains unchanged at 19.47 million units, up 8.2 percent from 2011.
The author is the director of Asia Pacific Forecasting at LMC Automotive