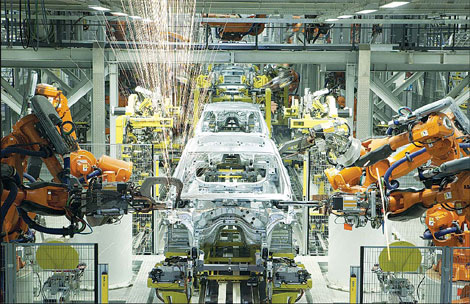 BMW's new plant in Tiexi, Shenyang, Liaoning province, is one of the most sustainable auto manufacturing plants in China. [Photos provided to China Daily]
Uncertain prospects due to the euro crisis, weakening demand in overseas markets, rising costs, the fading demographic dividend and a slowing economy - China faces a range of challenges today.
So what new will support the nation's growth in the future?
That was the question asked at the opening ceremony of the BMW CBJ Think Tank that began on June 15. Its theme is exactly that - "Pursuing new opportunities for Chinese development".
Organized by the German automaker's local joint venture BMW Brilliance Automotive Ltd and the China Business Journal, the initiative this year began at prestigious Peking University and will move to other famed business schools in Xiamen, Shanghai and Chengdu for analysis and discussion of the topic.
"The objective of the think tank is to foster communication - the exchange of ideas and knowledge between government, business and scientists," said Olaf Kastner, president and CEO of BMW Brilliance.
"The business world needs expertise, knowledge and new ideas from top minds, especially in turbulent times," he said.
Fan Gang, director of the National Economic Research Institute and an expert on the think tank panel, told reporters in an interview after the ceremony that small and medium-sized enterprises (SMEs) are "very important as a foundation of the economy".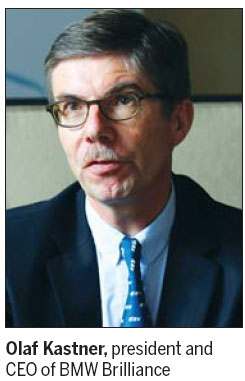 "One of the most pressing matters in China at the moment is whether a large number of SMEs can have sustainable development over a long time," he said.
"The government should create a good policy environment to let millions of people to use their creativity and new ideas like Steve Jobs did. The creativity of millions of people is the real power and potential of China's long-term development."
Kastner also shared his view with the press on an important part of the economy - the manufacturing industry.
"I strongly believe that manufacturing is the backbone of the economy," he said. "When you look at the world, you see that countries that are moving away from manufacturing have much more difficulty combating crises than the ones that have a strong manufacturing foundation."
He emphasized that successful manufacturing companies are those that keep up with developments and deliver quality.
"You have to be innovative, you have to make sure that the team is enthused, that the people working for you like to do what they are doing,' he said.
"When you do this, when you have a clear strategy, I strongly believe that manufacturing, regardless of economic fluctuations, provides a lot of opportunities."
Research projects
The think tank program was inaugurated in 2011, holding 12 forums throughout the year across the country. In addition to continuing its efforts in organizing forums, the program this year will support two research projects that are expected to be of great interest to business people in China.
One study by Fan and his colleagues will examine the operational environment for enterprises in different provinces in China.
The study will investigate aspects including government administration, law, financial services, human resources and infrastructure to offer a scientific and accurate analysis for investors, entrepreneurs and government officials.
Another study sponsored by the program evaluating company competitiveness is led by Jin Bei, director of the Institute of Industrial Economics at the Chinese Academy of Social Sciences.
Researchers will monitor changes in the competitiveness of Chinese enterprises and help address problems to improve their competitive strength.
"Take the manufacturing industry for instance - China has the biggest manufacturing sector in the world in terms of size, but its overall competitiveness lags far behind high-level enterprises in developed countries," Jin said.
"Chinese companies should identify their core competitive strength," Jin said, adding that he has seen some local companies reach world-class levels - although the products are unremarkable items such as valves.
In general, SMEs in China "are synonymous with outdated", Jin said.
In contrast, SMEs in Germany are billed as the "hidden champions" of the country's successful economic story, he said, calling for Chinese companies to learn from their German counterparts.
China's economic prospects concern many of the think tank participants. Fan said that long-term outlook for the Chinese economy continues to be high growth, but there will be fluctuations during which the real competitive strength of a company will help it survive and stand out, he said.
Fan said the most important characteristics of a successful company are specialization and concentration.
"There is no bad industrial sector, but only bad companies," he said, adding that some domestic companies are too fickle and blindly enter industries that can make some quick money instead of focusing on a the proper market to build up their core competitiveness.
"When a company focuses on doing one thing the best - so no others can replace it in the market - it will always has a stable profit for continued R&D and innovation to keep its leading position," Fan said.
"So we should learn from German companies like BMW, to learn their spirit of concentration and specialization in one particular area for sustainable and long-term development."
hantianyang@chinadaily.com.cn