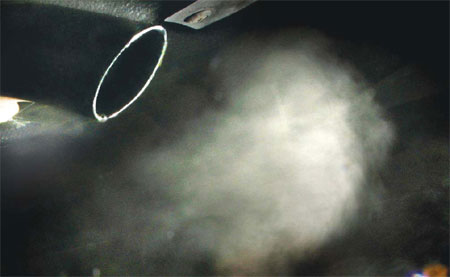 Volvo Group became the world's first auto manufacturer to join the World Wide Fund For Nature Climate Savers with a commitment to reduce the lifetime carbon emissions of its trucks sold between 2009 and 2014 by 13 million tons compared with 2008 models. Provided to China Daily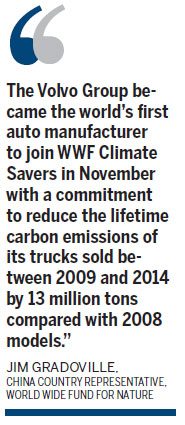 Company plans to cut carbon dioxide output by 30 million tons by 2014
Construction Equipment and Volvo Buses have joined the Volvo Group's cooperation with the World Wide Fund For Nature (WWF) Climate Savers program, pledging to reduce carbon dioxide emissions by 30 million tons from construction equipment, buses and trucks through 2014.
Shandong Lingong Construction Material Co, which is a Volvo joint venture, also became the first Chinese company to become part of this global carbon emission reduction campaign.
Volvo's Chief Executive Officer Olof Persson said the partnership demonstrates the company is serious about continuously raising carbon emission reduction targets and the vision for carbon-neutral future transportation.
"The Volvo Group became the world's first auto manufacturer to join WWF Climate Savers in November with a commitment to reduce the lifetime carbon emissions of its trucks sold between 2009 and 2014 by 13 million tons compared with 2008 models," said Jim Gradoville, WWF China country representative.
Thanks to improved fuel efficiency, the goal has now been increased to 30 million tons and will include the company's buses and construction equipment. Thirty million tons is the same amount of carbon dioxide emitted by Sweden in its entirety in seven months.
Started in 2000 by WWF, the Climate Savers program provides a platform to enable companies to join forces in committing to more ambitious reductions in their greenhouse gas emissions while growing their businesses responsibly.
"The idea of the program is to work with leaders in a certain industry, helping them to identify how they can reduce carbon emissions without hurting their business growth, so that others in the industry can follow suit," said Gradoville.
The Climate Savers' commitments are based on absolute emission reduction targets and ambitious timetables. Progress towards these targets is monitored and verified by independent third-party experts, he said.
The Chinese government has set a nationwide target to reduce its carbon intensity - the carbon emissions for each unit of economic growth - by 17 percent between 2011 and 2015. Subsequently, Chinese enterprises, especially the country's top 1,000 energy consumers, are also subject to carbon intensity reduction targets.
That means the absolute amount of carbon emissions can still grow as carbon intensity drops because China is still experiencing a high economic growth rate.
"But the target for the Climate Saver program is different. It is a cut in absolute carbon emissions," said Chen Xin, also from the WWF, "So it would be a really aggressive carbon reduction commitment for Chinese enterprises.
"We understand such targets can be extremely difficult to pursue for top Chinese energy consumers, such as the power sector and cement industry, so we are looking for potential partners with relatively low levels of emission, such as companies in the banking sector or the technology sector, and gradually expanding our program into other fields," she said.
lij@chinadaily.com.cn