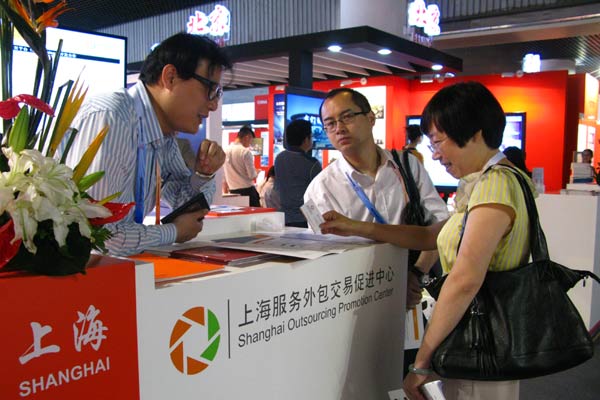 Shanghai Pudong Software Park's outsourcing promotion center offers consulting services. [Photo/CHINA DAILY]
BEIJING - The growth of China's service outsourcing industry accelerated slightly in the first five months, the latest data from the Ministry of Commerce (MOC) showed.
Chinese companies inked service outsourcing contracts worth 349 billion yuan ($53 billion) in the period, up 24.8 percent year on year, faster than the 23.9 percent increase recorded in the first four months.
Among the deals were offshore service outsourcing contracts valued at 237.6 billion yuan, up 37 percent year on year, according to the MOC.
In May alone, offshore contracts hit 40.5 billion yuan, rising 32.8 percent from a year earlier.
Outsourcing of information technology-related contracts accounted for nearly half of all offshore deals carried out in the first five months, the data showed.