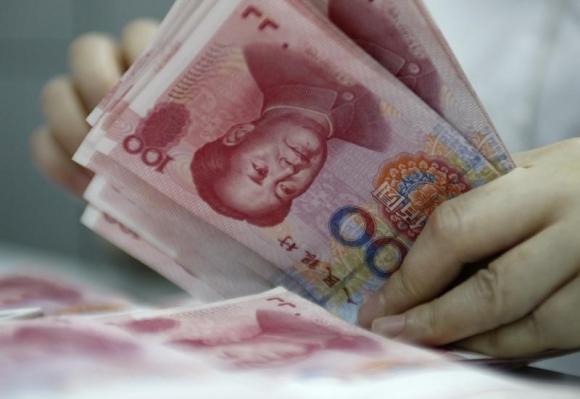 An employee counts yuan banknotes at a bank in Huaibei, Anhui province June 22, 2015.[Photo/Agencies]
BEIJING - China's new yuan-denominated lending jumped to 2.51 trillion yuan ($385 billion) in January, up 71 percent from a year earlier and well above market forecasts, official data showed Tuesday.
January's new yuan loans were also about four times that posted in December 2015.
Total social finance, a measurement of funds that non-financial firms and households get from the financial system, stood at 3.42 trillion yuan, nearly double December's count of 1.81 trillion yuan, the People's Bank of China (PBOC, central bank) said in a statement on its website.
"New finance for January came in at a monster 3.42 trillion yuan, ... smashing expectations of a 2.2 trillion yuan total," said Tom Orlik, chief Asia economist at Bloomberg.
"Massive credit expansion reinforces confidence in the immediate growth prospects for the (Chinese) economy," he said.
The prospects for China's economy heading out of the Lunar New Year holiday, which ended on Feb. 13, look a little better than they did heading in, Orlik said.
Seasonality is one factor behind January's record loan haul. Even so, January's total is a significant upside surprise, he said.
In the details, Chinese bank loans exploded to 2.51 trillion yuan, up from 832.3 billion yuan in December and also a new record. Corporate bond issuance increased, rising to 454.7 billion yuan from 356 billion yuan in December.
China's banks normally start the year with a bang, extending loans to their best corporate customers, Orlik said. The timing of the Chinese New Year in early February may also have been a factor, dragging some February lending forward.
Official data also showed that the M2, a broad measure of money supply that covers cash in circulation and all deposits, rose 14 percent year on year to 141.63 trillion yuan at the end of January,
The narrow measure of money supply (M1), which covers cash in circulation plus demand deposits, rose 18.6 percent year on year to 41.27 trillion yuan, the statement said.
The M0, the amount of money in circulation, stood at 7.25 trillion yuan, a year-on-year increase of 15.1 percent. January also saw a net money injection of 931 billion yuan, the central bank said.
In January, yuan-denominated deposits rose 2.04 trillion yuan, an increase of 372.5 billion yuan from a year earlier.
By the end of January, total outstanding loans stood at 101.86 trillion yuan, up 14.1 percent from the previous year. Outstanding deposits in both yuan and non-yuan currencies rose 12.3 percent year on year to 141.99 trillion yuan at the end of January, data showed.
"Taken together with concern about yuan depreciation pressure, booming loan growth adds to reasons the PBOC may take a cautious approach to future rate cuts," Orlik added.
PBOC data also showed that yuan-denominated cross-border trade settlement reached 564.3 billion yuan last month. Direct investment settled in yuan stood at 317.8 billion yuan.