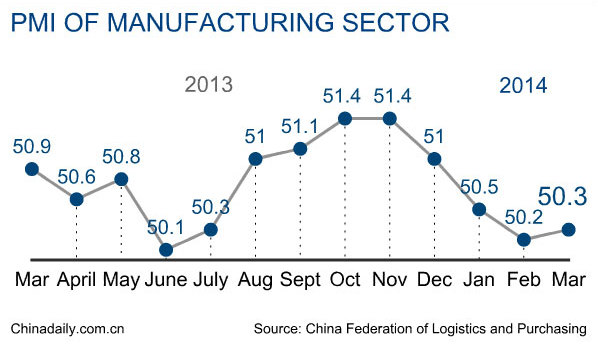 China's official manufacturing Purchasing Managers' Index ended its previous three consecutive months decline in March, rising a moderate 0.1 percentage point from February, the National Bureau of Statistics announced on Tuesday.
March's 50.3 percent PMI is the first time the index has picked up since November.
A reading below 50 indicates a contraction, while one above 50 shows expansion.
Tang Jianwei, a senior economist with the Bank of Communications, said the mild rise is due to factory activities resuming after Spring Festival. But the increase in factory activities is less than was expected, suggesting the economic growth is still weak.
Tang said he expected the PMI to continue rising as weak data for March will prompt the government to roll out measures to prop up the economy.