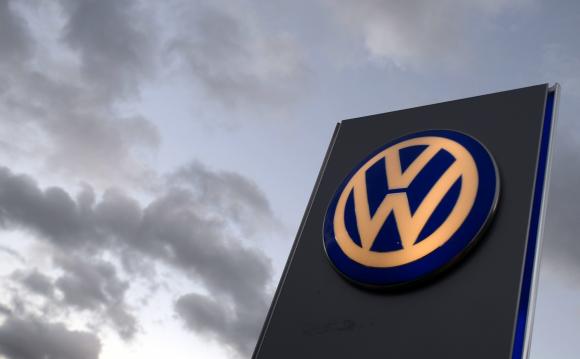 The logo of German carmaker Volkswagen is seen at a VW dealership in Hamburg, October 28, 2013. [Photo/Agencies]
Volkswagen has joined a rush by Western carmakers to tap fast-growing Southeast Asian markets to take on Japanese rivals in a region where a burgeoning middle class has money to spend.
Volkswagen is seeking to set up operations in the Association of Southeast Asian Nations (ASEAN) countries where the German group has one of the few remaining gaps in its global factory network that encompasses more than 100 facilities.
VW has applied to build its first plant in Thailand, two sources familiar with the matter told Reuters on Wednesday, seeking to take advantage from tax breaks that already attracted investment from Ford and General Motors.
VW declined to comment.
Auto manufacturers in Europe and the US are following Japanese rivals such as Toyota and Nissan in launching inexpensive and fuel-efficient models, taking aim at a market featuring increased export and domestic demand and a skilled workforce.
VW's plans for Thailand were reported late Tuesday by Bloomberg. The German group currently assembles three models in Malaysia with local partner DRB-Hicom.
Car markets in Southeast Asia, where Japanese companies dominate, offer stronger growth prospects than Europe, North and South America and even China where momentum is slowing.
"The Europeans have long overlooked the ASEAN region," Stefan Bratzel, head of the Center of Automotive Management think-tank near Cologne, said. "It's a direct attack on the Japanese. Local production is a must to be competitive in this lucrative region."
New-car sales in the six main ASEAN economies of Indonesia, Malaysia, the Philippines, Singapore, Thailand and Vietnam may rise 35 percent to 3.16 million by 2020 from 2.34 million last year, according to research firm IHS Automotive.
Market growth in Indonesia is set to overtake China in the next five years, IHS said, pegging its new car sales growth at 48 percent compared with 41 percent for the world's No. 1 market.
VW is seeking to participate in a Thai government programme offering tax breaks and other incentives to carmakers when they meet production targets for small, fuel-efficient vehicles, the sources said on condition they not be named because the matter is confidential. Final decisions have not been taken yet.
The move is designed to take on Japanese competitors which have been investing in Thailand for decades and have come to rely on the country as an export hub, one of the sources said. They also control around 80 percent of the Thai car market, the biggest in Southeast Asia.