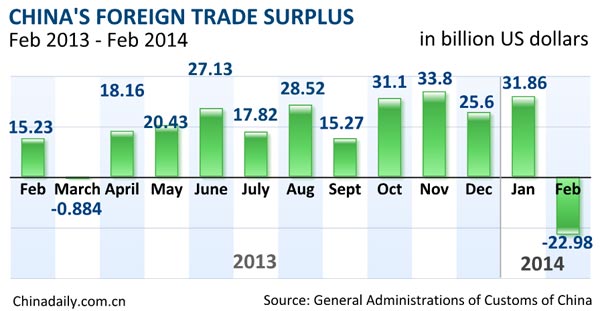 BEIJING - China reported a large trade deficit in February mainly due to distortion by the Chinese New Year holidays, marking the first deficit since April 2013, customs data showed on Saturday.
Last month, the trade deficit stood at $22.98 billion, compared with a surplus of $14.8 billion last February and $31.86 billion this January, the General Administration of Customs (GAC) said in a statement.
Total trade dropped by 4.8 percent year on year to $251.18 billion, with exports dropping 18.1 percent and imports up 10.1 percent, according to the statement.
In January, foreign trade climbed 10.3 percent, with exports rising 10.6 percent and imports up by 10 percent, previous data showed.
"The Spring Festival factor contributed to large fluctuations in trade volume and the deficit last month," the GAC said.
The Spring Festival, or China's lunar new year, is the country's most important traditional festival for family reunions. It fell on Jan 31 this year, and a holiday ran from Jan 31 to Feb 6.
Chinese companies followed their tradition of rushing to export before the holiday and prioritizing imports after it, the GAC added.
In the first two months of 2014, total trade volume expanded 3.8 percent year on year to $633.57 billion. Exports fell 1.6 percent, while imports rose 10 percent. Trade surplus narrowed 79.1 percent to $8.89 billion.
Since February, the GAC has expanded the use of the yuan denomination in trade statistics by releasing the whole series of data in both the US dollar and the yuan, a move that aims at promoting the international use of the Chinese currency.
Prior to that, all data were denominated in US dollars, while only a few key figures, including export, import and trade surplus, were listed also in yuan.
Trade with the European Union, China's largest trade partner, rose 6.3 percent to 551.99 billion yuan ($90.19 billion) in the first two months, while that with the United States, its second-biggest trade partner, rose 4.8 percent to 499.05 billion yuan.
China's trade with the Association of Southeast Asian Nations, its third-largest trading partner, rose 4 percent year on year to 413.63 billion yuan, and trade with Japan edged up 2.9 percent to 290.77 billion yuan.
Earlier this month, the Ministry of Commerce said China's goods trade in 2013 reached $4.16 trillion, overtaking the United States for the first time to become the world's largest goods trading nation, citing latest World Trade Organization figures.
The dramatic fluctuation in the monthly trade figure has caused some concerns about the health of the trade sector.
However, GAC spokesman Zheng Yuesheng played down the fluctuation, saying that trade growth will likely get back to normal after the holiday distortion goes away in March.