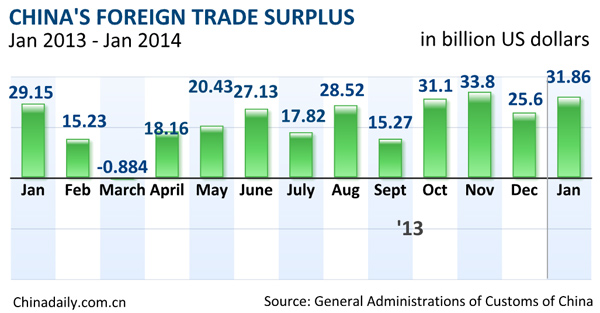 BEIJING - China's foreign trade volume climbed 10.3 percent year on year in January to $382.4 billion, according to customs data on Wednesday.
Exports rose 10.6 percent from a year earlier to $207.13 billion, while imports increased 10 percent to $175.27 billion, the General Administration of Customs (GAC) said in a statement.
The trade surplus stood at $31.86 billion last month, up 14 percent from a year ago and 24.25 percent from December.
From this month, the GAC will also release all customs data using its own currency, the yuan, as the denomination currency.
In the yuan-denominated version, foreign trade volume last month was 2.34 trillion yuan, up 7.3 percent from January 2013.
Exports and imports in yuan grew 7.6 percent and 7 percent respectively, both 3 percentage points lower than the dollar-denominated paces.
The disparity represents an appreciation of the yuan in 2013. The central parity rate of the yuan against the US dollar appreciated by 3.09 percent in 2013, central bank data showed.
The GAC started to use the yuan to calculate some trade figures, including exports, imports and trade surplus, last February to promote the international use of the Chinese currency.
However, growth pace figures were not specified in the yuan-denominated table from last February, as previous data had all been dollar-denominated.