Banks' robo-advisers are facing increasing scrutiny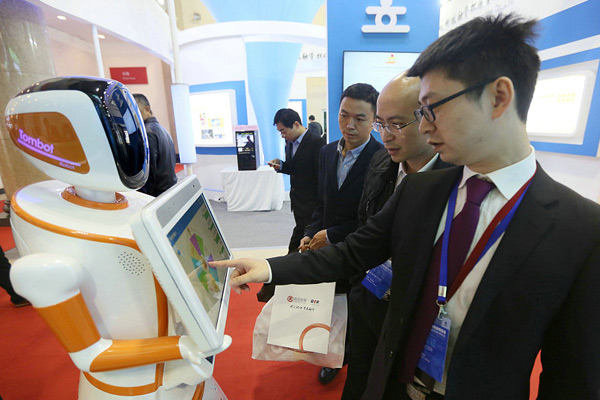 Visitors contact with a bank's robot at an exhibition in Beijing. Financial institutions are required to remind investors of the flaws and risks associated with algorithm-based robo-advisory models. [Photo/VCG]
With financial institutions increasingly employing roboadvisers, China's central bank and financial regulators issued draft regulations for comment recently, requiring financial institutions to receive regulatory approval for offering such services.
The regulatory authorities said financial institutions should create rational investment strategies and algorithm models, as well as remind investors of the flaws and risks associated with algorithm-based robo-advisory models.
Financial institutions are also required to report to the regulators the principal parameters of their advisory models and the main logic behind their asset allocation.
The draft regulations come at a time when a growing number of financial institutions, including commercial banks, securities firms and fintech companies, have started to explore robo-advisory services in wealth management.
Industrial and Commercial Bank of China Ltd, the country's largest State-owned commercial lender by assets, announced on Nov 13 that it recently launched a robo-advisory service called "AI Investment".
Personal clients of ICBC can take an investment risk tolerance assessment on its mobile banking platform. Based on the assessment results, the bank will recommend to each client an investment portfolio composed of six types of investment, such as bonds, securities and money market funds, and tell the client the simulated annualized rates of return during different investment periods.
The client will then make investment decisions based on the recommendation of ICBC, which sets the robo-advisory investment threshold at 10,000 yuan ($1,508), and adjusts their investment portfolio according to the latest investment situation in financial markets.
Since AI Investment started trial run on Aug 22, the annualized rates of return of its 15 investment portfolios ranged from 3.14 percent to 14.59 percent, according to ICBC. The robo-advisory model developed by the bank will analyze the data reflecting macroeconomics, industries, fundamentals of listed companies, and market performance and risk.
Before ICBC introduced robo-advisers, China Merchants Bank Co Ltd, a nationwide joint-stock commercial lender with a strong foothold in retail banking, launched a similar service in December 2016.
The bank's robo-advisory system analyzes more than 3,400 public funds to draw a risk-benefit curve that suits the investment goals and risk tolerance level of each client.
Tian Huiyu, president of China Merchants Bank, said the bank will push ahead with changes to its input-output model through the development of financial technologies.
During the process of strategic transformation of commercial banks, advanced technologies like artificial intelligence will be widely used in the financial sector, said senior executives of the bank.
It has invested more than 5 billion yuan a year during the last few years to improve its information technology services. It will further increase investment in technical innovation and establish a fault-tolerant mechanism to build a solid foundation for the development of retail banking, according to Li Jianhong, chairman of CMB.
Non-banks are also eyeing the robo-advisory market. Many securities companies, fintech firms and peer-to-peer lending platforms, which allow individuals to lend money directly to unrelated people and businesses, have launched their own services in this field.
PINTEC Group, a Beijing-based intelligent financial services technology platform, launched a renminbi-denominated robo-adviser in the China market, providing intelligent, customized and automated wealth management solutions to financial institutions and their clients.
Zheng Yudong, CEO of Polaris, the digital wealth-management and robo-advisory subsidiary of PINTEC, said: "Robo-advisers will help investors avoid financial losses caused by irrational investment behaviors, such as buying the winners and selling the losers, amid market fluctuations."
By using big data and digital technologies, Polaris will find asset allocation solutions based on real-time market and financial product conditions. Its investment portfolio covers 12 asset categories worldwide, including securities and bonds in mature markets overseas and emerging markets.
"We have a huge product database and our robots collect a certain fund's market data for calculation every day," Zheng said. "We emphasize long-term performance of a fund, rather than simply highlighting its short-term performance."
The firm provides robo-advisory solutions to institutional investors, including banks, securities and insurance companies, in addition to individual clients.