E-commerce giants push forward poverty alleviation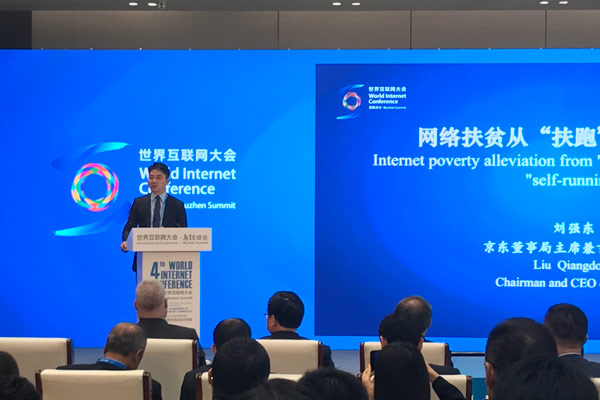 Liu Qiangdong, president of JD.com, addresses the Internet-driven Poverty-alleviation Forum at the 4th World Internet Conference underway in Wuzhen, Zhejiang province on Dec 3. [Photo by Xiang Wenjian/chinadaily.com.cn]
Chinese e-commerce giants Alibaba and JD.com are set to play a big role in the country's drive to alleviate and eliminate poverty in the coming years.
China is pressed for time to lift all people out of poverty by 2020, which is when the central government has pledged to finish building a moderately prosperous society in all respects.
Poor rural logistics is a root problem that has led to poverty in areas in Shaanxi and Gansu provinces, according to Liu Qiangdong, president of JD.com.
"A lot of high quality produce from rural areas have no price competitiveness when transported to cities like Beijing and Shanghai because of high logistics costs," Liu said while addressing the Internet-driven Poverty-alleviation Forum, at the 4th World Internet Conference underway in Wuzhen, Zhejiang province on Dec 3.
In a bid to solve the problem, JD.com has been actively building a logistics network to cover the whole country for the past 10 years.
By the year-end, logistics centers run by the company are expected to reach 500, to reach all 600,000 villages in China.
JD.com is also dedicated to exploring cutting-edge technology solutions such as automated warehouses and unmanned aerial vehicles (UAVs) to cut logistics costs and increase efficiency in rural areas.
Liu revealed that JD.com is building two large drone delivery systems in Shaanxi and Sichuan provinces.
In Sichuan, a total of 185 drone airports will be established, enabling the transportation of goods from mountainous villages in the province to any part of the country within 24 hours, according to Liu.
Alibaba, on the other hand, is also devoting great efforts to purge poverty.
Just a few days ago, the company set up a special fund to promote prosperity in China's rural areas. In the next five years, Alibaba will invest 10 billion yuan ($1.5 billion) to explore multiple ways to fight against poverty using internet technologies.
Ant Financial Services Group, an affiliate company of Alibaba, has provided unsecured loan services to more than 2 million rural startups, said Jing Xiandong, the company's chief executive officer.
In addition to business loans, Ant Financial also offers free online medical insurance for impoverished families to prevent them from being devastated by high medical costs if a family member becomes critically ill.
Illness and its related costs are a major cause of poverty among China's rural population. As of the end of 2016, about 40 percent of impoverished people in rural areas suffer from some form of illness, statistics from the National Health and Family Planning Commission show.
"The service allows these families to insure and claim for compensation online," Jing said, adding that more than 350,000 rural people have been insured to date.
He also mentioned Alibaba's other plans to tackle poverty, including subsidizing college students in poor areas and planting trees where desertification hinders local economic development.
JD.com and Alibaba are not only the ones working against poverty, other domestic e-commerce companies such as Vipshop and Yigo have rolled out specific plans to promote the national poverty alleviation campaign, with more expected to join in the future.
China lifted 12.4 million rural residents out of poverty last year. There are still 43.3 million people living below the poverty line with an average annual income less than 2,300 yuan ($340), according to the National Bureau of Statistics.