Cutting-edge, sci-tech internet feats recognized at WIC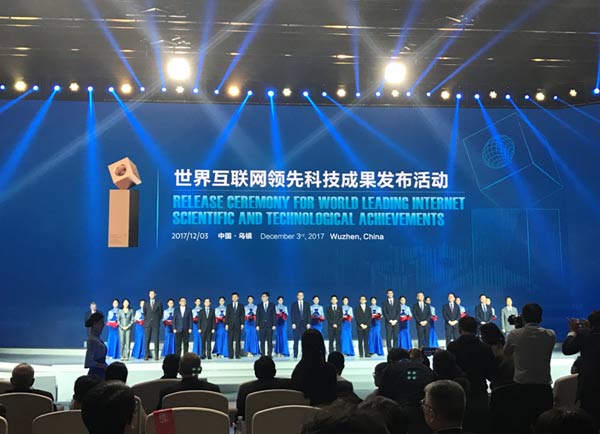 An awards ceremony was held for companies recognized for the world's leading scientific and technological internet achievements, during the 4th World Internet Conference held in Wuzhen, East China's Zhejiang province. [Photo by Li Chenxi/chinadaily.com.cn]
The 4th World Internet Conference (WIC) recognized a batch of the world's leading scientific and technological internet achievements on Dec 3.
Eighteen companies received awards during the ceremony.
China's leading bicycle-sharing service provider, Mobike Technology, was one of the companies given an award for its dockless bike-share system. Mobike built the world's first large mobile Internet of Things (IoT) platform, combining IoT, cloud computing, big data, and artificial intelligence (AI).
As of October 2017, Mobike had entered more than 180 cities in nine countries, with more than seven million smart bicycles and 200 million global users, who complete 30 million trips per day.
"There is no boundary for technological innovation and sharing. No matter in small villages or in big cities, like Washington DC, a user can unlock a bike for a ride easily with an app. We would like to provide such services to one to two billion people worldwide," said Davis Wang, Mobike's co-founder and CEO.
Microsoft's Xiaoice, an emotion computer-based AI product, also was presented at the event. It was invented in China and has been promoted in five countries.
Xiaoice has played various social roles by taking different "jobs", such as a TV host, radio host, news commentator and column writer. It published a poetry collection in May this year.
As Harry Shum, executive vice president of Microsoft Corporatio, pointed out during his speech, Xiaoice has been gradually developed into an EQ-based, which is not only an AI robot, but also a partner and real person for its users.
BeiDou Navigation Satellite System (BDS) was spotlighted for its "Chinese solution", which was independently constructed and operated by China and provides service worldwide.
Thanks to the BDS, more than 10,000 fishermen have been rescued, and the major car accident rate and casualty rate have decreased by 50% in China.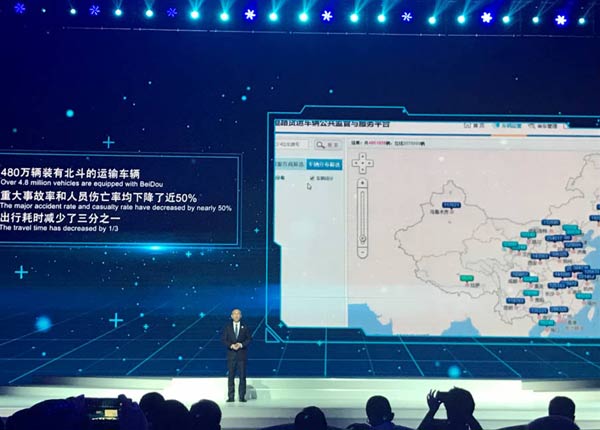 Ran Chengqi, director of the China Satellite Navigation Office, presents the BeiDou Navigation Satellite System during the 4th World Internet Conference. [Photo by Li Chenxi/chinadaily.com.cn]
"BeiDou is developed by China, and dedicated to the world," said Ran Chengqi, director of the China Satellite Navigation Office. He said that the BDS also has become a service provider and icon for the Belt and Road Initiative.
The event was held to showcase the latest achievements in the internet industry, promote the concept of making internet technology innovative, green, inclusive and shared. It also highlighted the extraordinary contribution of the internet professionals and built a platform for exchanges in innovation across the sector.
Over 40 prestigious experts from the global internet industry sit on the recommendation committee.
The nomination process started in July, with about 1,000 cutting-edge scientific and technological internet achievements from China and other countries, such as the United States, the United Kingdom, France, Sweden, Ireland, Finland and South Korea, joining the competition.