IoT to upgrade manufacturing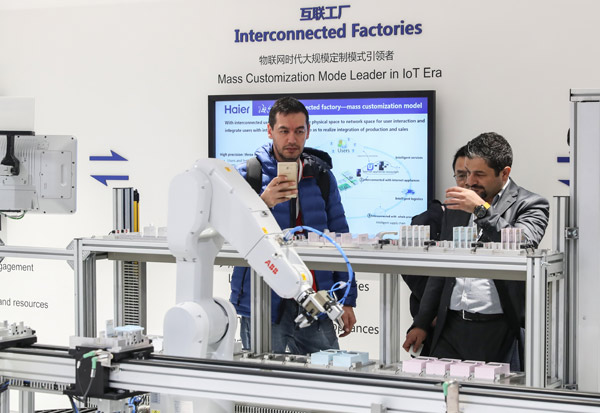 Visitors take pictures of Haier products at the Hannover Messe, a leading trade expo for industrial technology. [Photo/Xinhua]
China is catching up fast with advanced economies in adopting and fostering the internet of things or IoT to make manufacturing more efficient and competitive, said the head of China operations of a global consulting firm.
Dan Starta, managing director and partner of A.T. Kearney Greater China, said the government's strong support for the corporate sector will make China one of the most connected countries in the world.
While North America currently leads in IoT adoption, Asia-Pacific countries and China in particular are rapidly catching up.
According to the China Annual IoT Development Report (2016-17) published by the China Economic Information Service, China's IoT market has grown by 20 percent annually over the past few years, reaching 900 billion yuan ($136.3 billion) in 2016. It is expected to reach 1.5 trillion yuan by 2020.
The Ministry of Industry and Information Technology anticipates more than 1.7 billion public machine-to-machine connections will be enabled by 2020.
By then, China is expected to account for 59 percent of the connected device market in the Asia-Pacific region, excluding Japan.
Starta said manufacturing spend on the IoT will account for a major portion of the overall IoT spend.
Key investment areas include asset tracking, connected field devices and condition-based maintenance, and autonomous robots.
Market research firm IDC predicted that Chinese manufacturing IoT spending will grow by 15 percent annually to reach $127.5 billion by 2020.
"The rapid growth in adoption of the IoT will largely be fueled by Chinese government policies. While it is the manufacturing powerhouse of the world, China is challenged by slowing economic growth, increasing labor costs, and higher consumer expectations," said Starta.
"The Chinese government recognizes the key role of the IoT in manufacturing industries' efforts to modernize and remain competitive, and has therefore incorporated the IoT in its 13th Five-Year Plan (2016-20). Adoption of the IoT is key to the government's 'Made in China 2025' and 'Internet Plus' strategies," he said.
The IoT 13th Five-Year Plan, published by the MIIT, provides clear guidelines and goals for development through 2020.
These include developing and strengthening capabilities around telecom, cloud computing, the IoT, and big data, and reducing reliance on foreign technology and imports.
Rather than waiting for government policy to stimulate the market, domestic companies China Aerospace Science and Industry Corp, Sany Heavy Industry Co and Haier Group have all pushed their own industrial cloud platforms to grab as much market share as possible.
"Financial support such as special funds are available for key development projects, and numerous pilot programs are also underway across the country, including the IoT industrial development clusters in the Bohai Sea Rim, the Yangtze River Delta and the Pearl River Delta regions," said Sun Fuquan, a researcher at the Beijing-based Chinese Academy of Science and Technology for Development.
He said the country also needs to ensure that the current investment in technologies, including the internet, robotics and virtual reality, will be leveraged to the benefit of its industries.