What did the big names say during the 3rd WIC?
Guo Taiming: Internet can empower manufacturing giants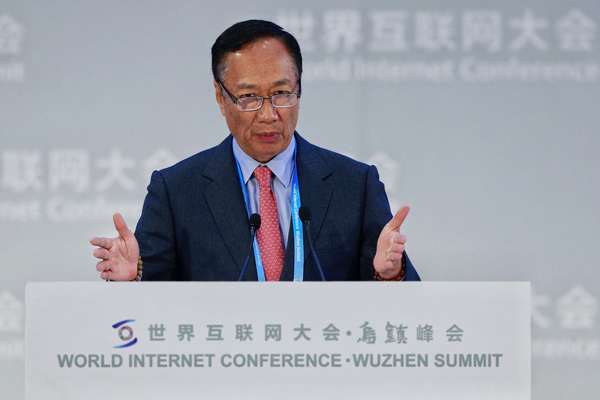 Guo Taiming, president of Taiwan's Hon Hai Group, delivers a speech at the Digital Economy Forum: Dialogue between Chinese and Foreign Officials and Entrepreneurs, of the third World Internet Conference (WIC) in Wuzhen, East China's Zhejiang province, Nov 17, 2016. [Photo/IC]
Guo Taiming, also known as Terry Gou, president of Taiwan's Hon Hai Group, which trades as electronics manufacturer Foxconn, said to media at the sideline of the Third WIC that manufacturing giants with internet technologies have more advantages than internet companies without manufacturing experience.
He said internet technologies can help established industry's giants to double their growth, but it is difficult for an internet company having no experience to find feet in the manufacturing industry.