Town gears up to host global gathering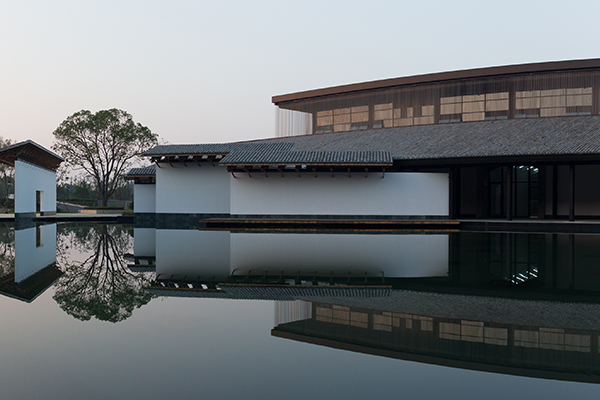 A section of the newly completed Wuzhen Internet International Convention Center in Zhejiang province, which will be the venue for the World Internet Conference. [Photo/China Daily]
With the completion of the newly built Wuzhen Internet International Convention Center, Wuzhen in Zhejiang province is ready for the Third World Internet Conference to taking place from Wednesday to Friday.
The new convention center, with a floor area of 81,000 square meters, consists of a convention center, a reception center and an exhibition center, and it has been designated as the permanent venue for the global event.
The permanent host of the annual WIC, Wuzhen is covered with connected waterways, and more than 80 stone bridges, resembling the internet spirit of connectivity.
The center was designed by Wang Shu, the first Chinese winner of the Pritzker Prize, the world's top architectural prize.
The conference center is a mixture of traditional Chinese architecture and modern characteristics. The building is covered with 2.6 million gray tiles, a traditional roof material used in Jiangnan-the areas south of the lower reaches of the Yangtze River.
During the three-day event, the convention center will host the opening and closing ceremonies, panel sessions, and showcase the latest innovations and technological developments in the internet. The eight pavilions of the exhibition center will host the Light of the Internet Exposition.
For the first time, this year's Light of the Internet Exposition will be open to the public with free access.
More than 310 technology corporations, including big-name enterprises such as Microsoft Corp, IBM Corp, SAP SE, Alibaba Group Holding Ltd, Tencent Holdings Ltd and Baidu Inc, will send delegates to the WIC this year.
Organizers have selected 10 locations in Wuzhen and the nearby area for leaders of prestigious companies to socialize in.
In order to better serve its international guests, there will be 1,024 volunteers to provide foreign language translation services during the conference.
After three years of development, Wuzhen is now equipped with 26 10-gigabit optical cables and has launched a group of smart programs, such as the Zhejiang big data trading center and 5G internet of vehicles, smart security, smart tourism, smart elderly care and smart medical care.
Zhejiang province is well-known for its internet-related industry. To date, about 80 percent of the nation's online retail, 70 percent online exports, as well as 60 percent online business-to-business trades are conducted through e-commerce platforms in Zhejiang.