Wuzhen gets big data boost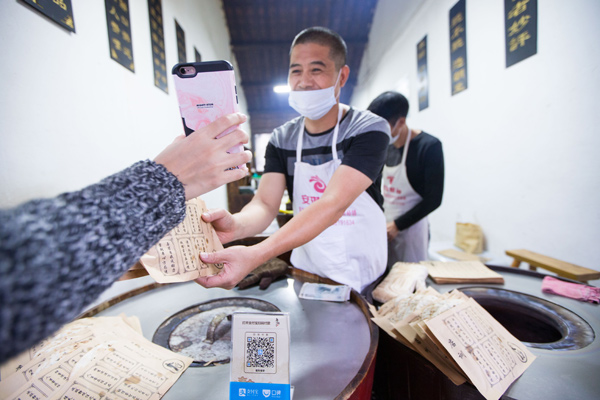 A tourist buys food via Alipay, the mobile payment service of Ant Financial Services Group, in Wuzhen, Zhejiang province.  XU KANGPING / FOR CHINA DAILY
Big data-enabled credit rating technology is expected to give Wuzhen, a scenic water town in Zhejiang province, a major boost in the run up to the World Internet Conference next week.
Wuzhen Tourism Co Ltd signed a deal on Tuesday with Ant Financial Services Group to build the town, which is about a two-hour drive from Shanghai, into China's first tourist attraction powered by the internet finance major's credit rating tool.
Visitors who have excellent credit records will be able to enjoy great advantages in Wuzhen.
Under the partnership, those who have a 600-or-above credit rating on Zhima, the system created by Ant Financial, can borrow umbrellas or batteries as well as enjoy fast check-in at local hotels without paying a deposit.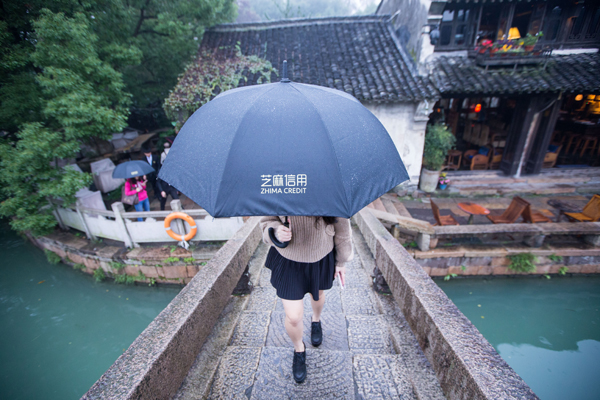 A tourist walks on a bridge with an umbrella borrowed via Zhima Credit, which is under Alibaba's affiliate Ant Financial, in Wuzhen, Zhejiang province, Nov 17, 2016. XU KANGPING / FOR CHINA DAILY
Zhima was launched in 2015. It gives users a credit rating of between 350 and 950 after analyzing their online behavior, such as online shopping, their ability to pay off debts, and social networks.
Ge Wei, head of the informatization unit of Wuzhen Tourism, said in a statement that the tourist attraction will work with Ant Financial to provide more convenient services by leveraging the power of big data credit rating.
"We will also explore the way of using virtual reality and artificial intelligence in services and build Wuzhen into a benchmark of the future tourism industry," he said.
Yu Wujie, deputy manager of Zhima, said the credit rating service is expected to save people time on queuing for services and improve their traveling experience.
"We intend to provide the credit rating service to more tourist attractions and merchants in China and make more people with a good credit rating enjoy better services," he said.
Since being named as the permanent meeting place for the World Internet Conference in 2014, Wuzhen has been gearing up to make the town a "smart" tourist attraction.
All of its 200 merchants, including supermarkets and restaurants, allow visitors to pay via Alipay, China's largest mobile payment service operated by Ant Financial.
Between Nov 16 and 18, the town will host the third World Internet Conference. Internet officials, specialists and activists from home and abroad will meet to discuss the latest developments in the internet industry.