Beijing-Tianjin-Hebei zone: Rise of new growth engine
The car is the star at Hebei plant
BY ZHANG ZHAO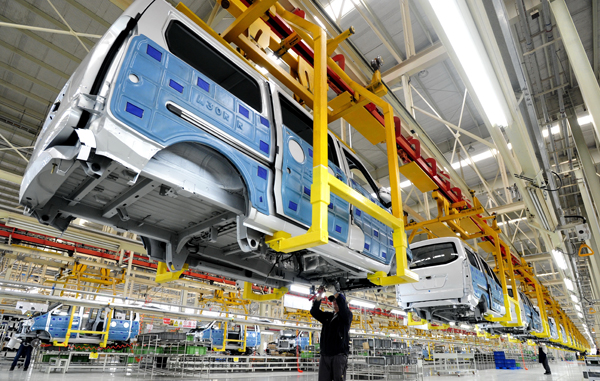 Workers assemble vehicles at BAIC Group's Huanghua plant in Hebei on Feb 20, 2017. [Photo/Xinhua]
Every 54 seconds, a car rolls off the assembly line at Beijing Hyundai Motor's Cangzhou plant in Hebei province, one of the largest industrial project in the Beijing-Tianjin-Hebei integrated development strategy region.
Fully automated production lines perform functions like stamping, welding, painting and assembly procedures, as well as engine manufacturing, facilitating such a fast rate of production.
Thanks to strong support from the provincial and Cangzhou city governments, the project was approved in less than 100 days, and production started in October 2016 after 18 months of construction. The construction of a factory on such a scale usually lasts 24 to 30 months elsewhere in the world, according to Lang Jiawei, deputy general manager of Beijing Hyundai, a 50-50 joint venture between South Korean carmaker Hyundai Motor Co and Beijing Automotive Industry Holding Co Ltd.
As the fourth Beijing Hyundai factory and the first outside Beijing, the Cangzhou plant cost 12 billion yuan ($1.7 billion) and covers an area of 191 hectares. It is designed to produce 300,000 cars annually along with 200,000 engines.
The plant has brought both economical and social benefits, Lang said. "The project leads to the development of auto parts manufacturing, which will become a future major industry in Cangzhou."
The plant has attracted nearly 20 leading auto parts makers as well as many auto service providers into the Cangzhou auto industry park.
The auto and auto parts industries will provide more than 6,000 jobs to Cangzhou locals, and the value from related businesses, including service trade, car financing and logistics, is expected to reach 100 billion yuan, according to the company.
By the end of 2018, Cangzhou will have an annual manufacturing capacity of 1 million cars with output value of 80 billion yuan. The auto parts industry will generate 50 billion yuan, and auto service business 5 billion yuan at that time.
Beijing-Tianjin-Hebei cooperative industrial projects will help Hebei to enhance its industrial capacity and optimize its economic structure, said Gong Xiaofeng, director of the Industry and Information Technology Department of Hebei province.
He said: "The coordinated industrial development projects have granted us opportunities. We have been actively building platforms to carry on industrial projects relocated from Beijing and Tianjin to speed up Hebei's industrial restructuring and upgrading."
Last year, a number of seminars, exhibitions and campaigns were held to promote more than 400 cooperative projects with total contracted value of nearly 1 trillion yuan. More than 100 such events will be organized this year, Gong said.