High-tech companies in the limelight at Shenzhen expo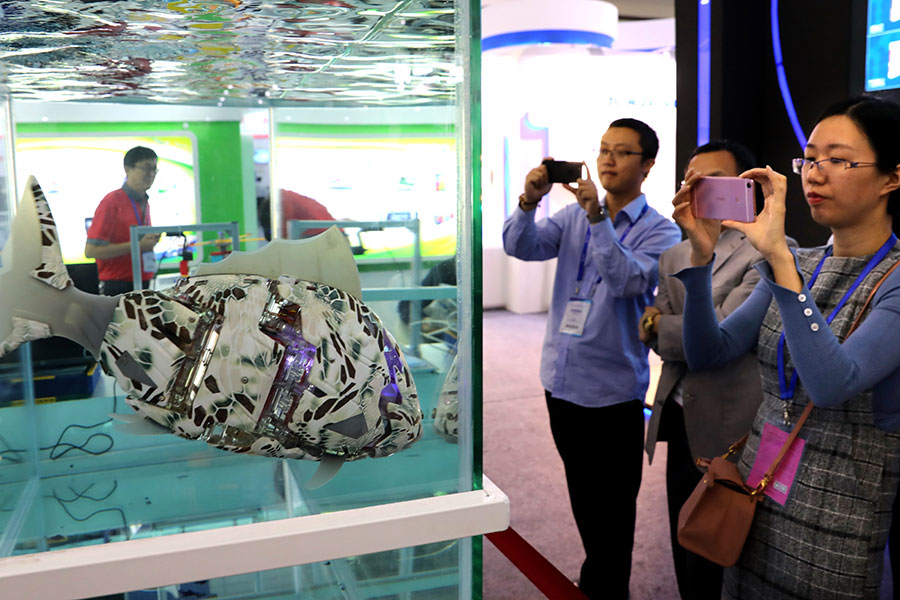 Visitors take photographs of an underwater robot in a tank at the China High-tech Fair 2017 held in Shenzhen, Guangdong province, on Nov 16, 2017. Xuan Hui / Provided to China Daily
Have you seen a machine that transforms air into drinking water, a window membrane to protect your home from outside pollutants, or a battery that needs only 30 seconds to charge?
Innovative companies and technologies are the top draw for foreign delegations and visitors at the China High-tech Fair 2017, a State-level technology show that kicked off on Thursday in Shenzhen, Guangdong province.
More than 1,000 new products are being showcased at the fair that has attracted 3,049 exhibitors from all over the world. Some of the top global technology companies are also participating in the event, such as the 3-D robotic sorting system from Intel and the latest 5G solution from Huawei.
In addition, the fair also set an exhibition zone for early-stage startups for the first time this year.
Delegations from 35 countries and the European Union are seeking cooperation with China's innovative high-tech companies.
The delegation from Argentina's La Rioja province, which is taking part in the event for the first time, signed a memorandum of understanding with China's leading new-energy carmaker BYD at the fair to purchase 50 electric buses. The Shenzhen-based company will also provide a package of new energy solutions, including electronic cars, e-trucks, solar panels, and energy storage systems.