Copenhagen Zoo breaks ground for Panda House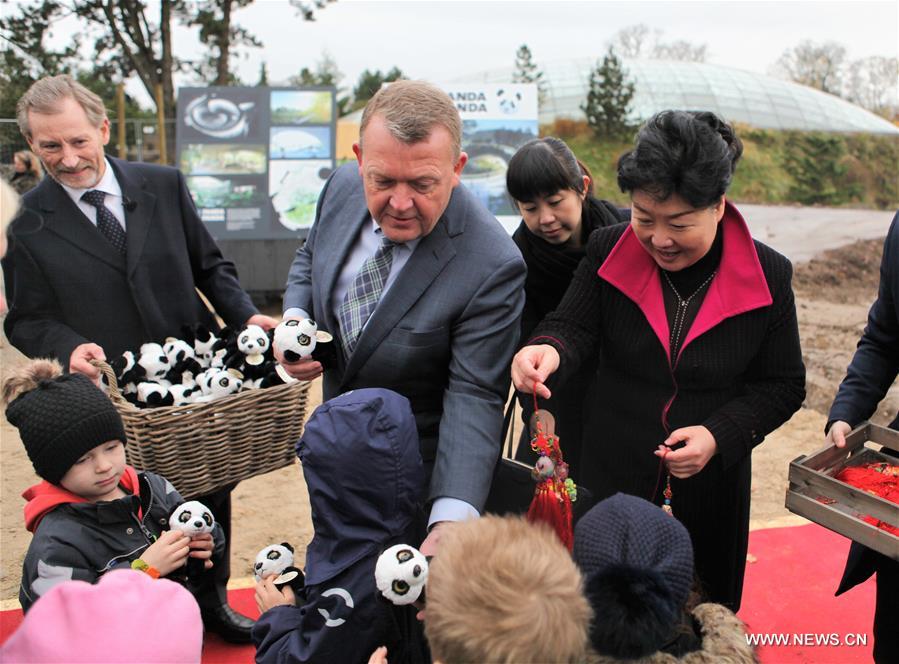 Danish Prime Minister Lars Loekke Rasmussen (C) and Chinese Ambassador to Denmark Deng Ying (R) present to children gifts during the groundbreaking ceremony for a giant panda enclosure at the Copenhagen zoo in Copenhagen Nov 16, 2017. A giant panda enclosure will be built at the zoo for a pair of giant pandas that are scheduled to come to Denmark from China in about one year. [Photo/Xinhua]
COPENHAGEN - Denmark's most visited zoo in the capital city of Copenhagen held a groundbreaking ceremony for its new enclosure for a pair of giant pandas that are scheduled to come to Denmark from China in about one year.
Danish Prime Minister Lars Loekke Rasmussen together with Chinese Ambassador to Denmark Deng Ying lifted ceremonial shovels and broke ground for the Panda House, which is to be built on the site of the zoo's old Elephant House.
Addressing the groundbreaking ceremony, Deng said the cooperation in the protection and research of giant panda is of great importance to deepening the friendly relations between the two nations.
"Amity between people holds the key to sound relations between states," Deng quoted a Chinese saying, adding that the giant pandas are not only China's national treasure, but also envoys for friendship and symbol of peace.
She also expressed the hope that the friendship between the two peoples will continuously bear new fruits.
For his part, the Rasmussen said he is happy about China's decision to send the pandas to Denmark.
"It will be a strong signal of the 10 years' anniversary of China-Denmark Comprehensive Strategic Partnership when they arrive next year."
"Though Denmark and China are two very different countries and hold different views on some issues, the two nations enjoy very good bilateral relations. Bringing the pandas to Denmark will be a symbol of that," Rasmussen added.