E-commerce platforms ready to battle on Singles Day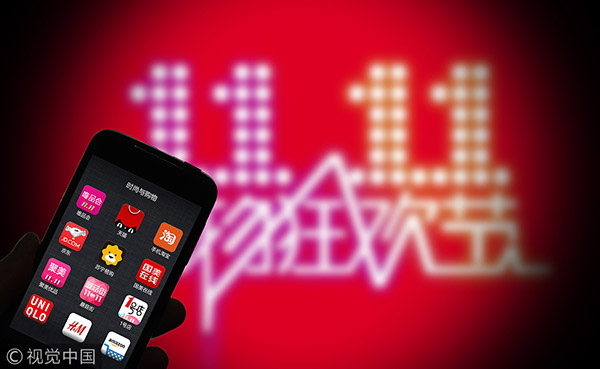 [Photo/VCG]
China's e-commerce platforms have announced their promotional policies before the annual shopping spree on Nov 11, known as "Singles Day".
On Tuesday, Chinese online shopping mall Gome released a campaign that encourages customers to create their own online shops to help the company sell products on its shopping app.
Gome will provide more than 1,000 products to these people as well as will give them a total of 300 million yuan ($45.23 million) in commissions, according to a campaign representative at the company.
Gome's rivals, including Suning, JD.com, and Tmall, previously pushed out their operations to increase interaction with customers.
Online shopping platform JD has cooperated with tech giant Tencent to publish a program utilizing big data to help offline retailers increase sales during the upcoming shopping event.
Retail group Suning provides similar privileges to customers, no matter whether they buy goods at its online platform or offline shops. In addition, the company has launched a "big data sharing" program that will optimize data sharing with factories at every level of the supply chain, the Beijing Morning Post said, quoting Hou Enlong, president of Suning's e-commerce platform.
Gome also promised customers the same products with the same prices and quality at its offline stores and online markets.
As initiator of the shopping carnival, Tmall announced its pre-sell scheme early — last Thursday.
However, some customers complained on social platforms, saying the pre-sell scheme is too complex to understand.
"I need to re-study mathematics and reading skills to figure out Tmall's special offers this year", said one self-deprecating customer.