Firms fight startups to wire up Europe's roads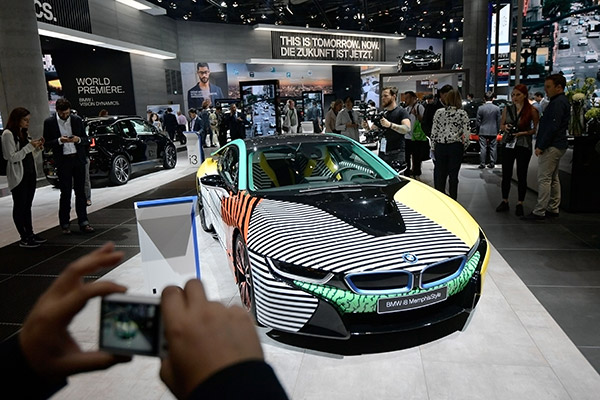 Visitors look at a BMW i8 car at the 2017 Frankfurt Auto in Germany. [Photo/Agencies]
PARIS/FRANKFURT - The battle over how and where Europeans charge their electric cars is now moving from the continent's cities to its motorways.
Power utilities, tech startups and oil majors are fighting to establish themselves as the dominant players in the fast-growing business of charging stations - but advances in electric vehicles mean that where they build them is changing.
Refueling conventional petrol and diesel cars on motorways has long been the domain of the oil companies, which typically have their own networks of filling stations.
Several are now talking about setting up high-power charging networks, creating major competition for limited space at motorway service areas.
"It is a bit of a landgrab now to win this sector," said Tim Payne, chief executive of British charging startup InstaVolt, which has raised 12 million pounds ($16 million) to install 3,000 charge points across Britain by 2020.
While the range of electric vehicles was less than 100 km, Europe's utilities were happy to help cities and companies install slow and inexpensive charging points at homes, offices and shops, often supported by state subsidies.
But Tesla, Porsche and BMW are now making battery-powered cars with enough range to drive across countries. Daimler and Volkswagen also announced plans on the eve of last week's Frankfurt motor show to accelerate their shift to electric cars.
Charging infrastructure, however, remains nowhere near it needs to be.
"Where is the network of charging points that will be required? Indeed where is the power and the grid?" Ralf Speth, chief executive of Britain's Jaguar Land Rover, asked.
Experts including Charge-Point and Engie are, however, making plans to build pan-European networks of high-voltage fast-charging stations which can refill a battery in less than half an hour instead of overnight.
In Britain, InstaVolt is renting land from filling station operators, bringing them additional revenue from the lease as well as the increased traffic to their shops at the sites. It earns a margin by selling power through the chargers.
InstaVolt struck a deal in May with ChargePoint, which itself is on a $125 million expansion spree in Europe, to install about 200 of the US group's ultra-fast chargers close to popular roads across Britain.
Morgan Stanley estimates that 1-3 million public charging points could be needed in western Europe by 2030, adding that while utilities have natural skills in the new industry, it was too early to determine who will come out on top.
"The winning business model is up for grabs," it said.
Today, there are fewer than 100,000 public charging points available in Europe, with only about 6 percent of them fast, according to the International Energy Agency.
Almost none of these is super-fast, a term usually used for charging stations with an output of at least 150 kilowatts. More than three times faster than current-generation chargers, they are now being targeted by those trying to become market leaders.
Contenders include Dutch EV-Box, one of Europe's biggest makers of charging stations, which was snapped up by French utility Engie in March.
"We expect hundreds of millions (of dollars) in annual revenue from EV-Box in a few years," Thierry Lepercq, head of innovation at Engie, told Reuters.
He sees Engie's EV charging revenue growing by a factor of 20 in three to five years. Last year, EV-Box had sales of 16 million euros ($19.1 million).
EV-Box Chief Executive Kristof Vereenooghe said that unlike most of its competitors EV-Box has been profitable from the start, a claim that makes it stand out in an industry where gaining scale is considered more important for now. That's why German utility E.ON, too, announced a strategic partnership with Danish startup CLEVER and said it had the ambition to roll out several hundred ultra-fast charging stations along European motorways.
REUTERS