Winning projects and hearts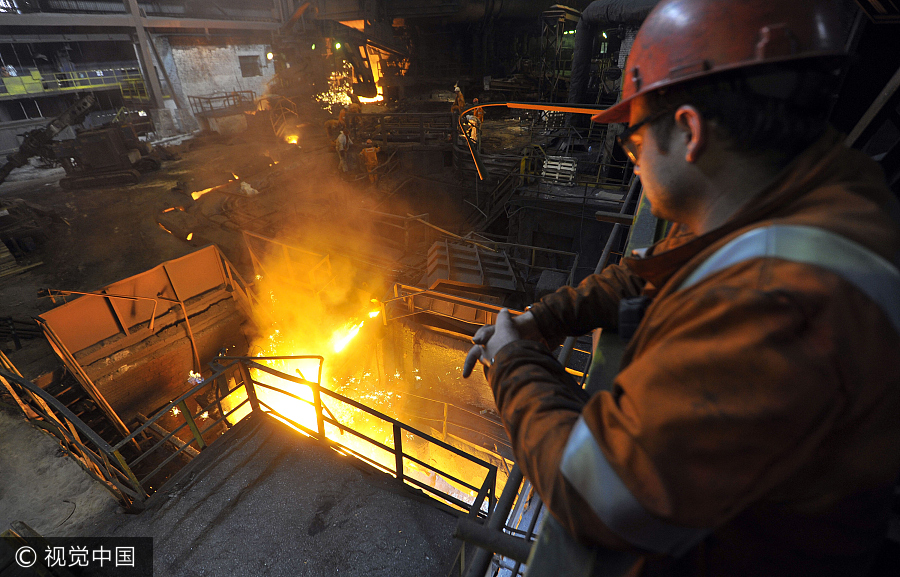 An employee monitors the blast furnace at the Zelezara Smederevo, a steel plant in Smederevo, Serbia, Jan 21, 2015. [Photo/VCG]
Chinese M&A, tech bring growth, corporate turnarounds and happiness to Serbia, Macedonia
Until early last year Serbia's largest steel company, Smederevo, was in deep financial trouble. It had had seven straight years of losses, and its very survival looked precarious.
Now, barely 18 months later, the company is well and truly over its brush with mortality, and its managers say its prospects are rosy.
Its fortunes began to change in April last year, as did those of Ivan Matkovic, who has worked for Smederevo for 17 years.
The company and Matkovic owe their good fortune not only to the intervention of one of China's largest iron and steel manufacturers, HBIS of Hebei, but also to the overarching influence of the Belt and Road Initiative.
The initiative's five most important planks are policy communication, road connectivity, unimpeded trade, monetary circulation and understanding between peoples, and President Xi Jinping has stressed that the last of these is a sine qua non of sound relations between countries, and thus requires more commitment.
Paying heed, HBIS went about exploiting new opportunities presented by the B&R Initiative. It bought the loss-making Smederevo for 46 million euros ($54 million) and started to manage it within three months.
Now Matkovic earns more than he ever had before.
"HBIS expanded Smederevo's capacity after the takeover. I feel relieved economically and more confident in the company's future. Moreover, the top Chinese executives are very friendly, and provide effective management."
The output of Smederevo, which has since been renamed HBIS Group Serbia Iron & Steel (or simply HBIS Serbia), increased by more than 50 percent sequentially in the second half of last year, the highest level since 2010.
HBIS' takeover ended seven years of losses, and pushed the 105-year-old Smederevo back into the black by the end of last year, according to the company's CEO Song Sihai.
HBIS Serbia's revenue accounted for 2.1 percent of Serbia's GDP ($377.5 billion) in 2016.
"The Belt and Road Initiative is a very important trigger for the acquisition. The supportive attitude of the Serbian government also played an important role," said Song.
Zorana Mihajlovic, Serbia's deputy prime minister and minister of construction, transport and infrastructure, said in an interview that the total investment in the country's ongoing infrastructure projects is close to $1.64 billion. Of that, $704 million, or 43 percent, came in from Chi-na on the back of the B&R Initiative.
For instance, construction of the first stage of the Hungary-Serbia railway, China's debut rail line in Europe, will start in November.
Prior to the rail line, China had completed the 250-million-euro Zemun-Borca Bridge, across the Danube and its approach roads in Belgrade, Mihajlovi said.
"China's investment helped us to improve infrastructure facilities and created job opportunities. More importantly, we are very grateful to the technologies and training opportunities that our Chinese partners bring to us," said Mihajlovic.
"The decision to participate in the Belt and Road Initiative is one of the most important ones we've ever made, and we will definitely continue to get involved in it."
According to Mihajlovic, in the past 40 years, Serbia has been seeking partners in Europe to begin new projects in its energy sector but failed.
Now, the government is in talks with a Chinese company to start the country's largest hydropower station.
"The grand initiative needs the boldness of vision but should also be implemented in a way that could moisten things silently," said Xu Li, marketing director in the Western Balkans of YTO International Ltd, a Chinese tractor manufacturer.
With years of experience in expanding overseas, Chinese enterprises have been attaching much importance to building better relations with local staff and integrating with local people.
HBIS Serbia, for instance, increased the staff salary by 8 percent soon after the acquisition. It also set up a special fund to help staff going through difficult times.
The company's top management visited retirees during traditional local holidays and offered them gifts. In August, they gifted stationery to staff with schoolgoing children as schools reopen in September after the summer holidays.
"We also encourage the staff to advise us on how to improve the working process and management," said Song.
This year, HBIS Serbia will invest heavily in environment protection and energy-saving techniques. "We want to preserve a good environment for the local people," Song said.
HBIS is not the only Chinese company to ride the B&R Initiative to touch millions of lives. Sinohydro, a Chinese infrastructure builder, is another shining example.
In August 2015, the Macedonian city of Tetovo was caught in a rainstorm that led to a serious landslide, leaving some villages isolated.
Sinohydro's branch office in Skopje organized a rescue team quickly and pressed into service heavy machinery in the stricken areas to clear up a road, thus establishing a communication link to the isolated villages.
Liu Zhichao, who headed the rescue team at that time, recalled that a senior Skopje citizen invited Sinohydro's Chinese staff to his home, when the latter were having pizza for lunch, standing in the hot sun. The old man offered grapes, cola and beer.
"We paid lots of attention to communicate with the local government and communities while constructing the project," said Wang Jianfeng, manager of Sinohydro's Skopje branch office, which is executing the Kicevo-Ohird Motorway Project.
The hills along the project, for instance, often experience droughts during summer so the branch office has paid for the digging of open wells for the locals.
And during local festivities, company staff get into the spirit by offering gifts to villagers and passing on best wishes to the local government, Wang said.
Such efforts, Wang said, can help cement relations. Kicevo's singing and dancing group, for instance, visited the project for a performance during the Chinese Lunar New Year.
Zvonko Sarafiloski, 51, manager of a food processing factory in Kicevo, said Sinohydro's project in Kicevo is good for locals, particularly young people, as it has created employment. Prior to the project, the locals had limited job opportunities and low incomes.
Since 2014, however, the Kicevo-Ohird Motorway Project has offered a new life to local people.
"We have money not only for bread but meat, cheese, candy, alcohol and even new phones, laptops," said Sarafiloski. The motorway project also helped expand local businesses. More and more new groceries, restaurants and supermarkets were set up.
"Our life is easier now. We hope Sinohydro can get new projects, so that our young boys and girls can work with Chinese engineers for a longer time."
According to Ling Shengli, secretary-general of the International Security Research Center at China Foreign Affairs University, if two nations wish to come closer, the process has to start at the level of people.
People need to come together, heart-to-heart, first-only then would there be closer ties, said Ling.