China Telecom teams up with major internet firms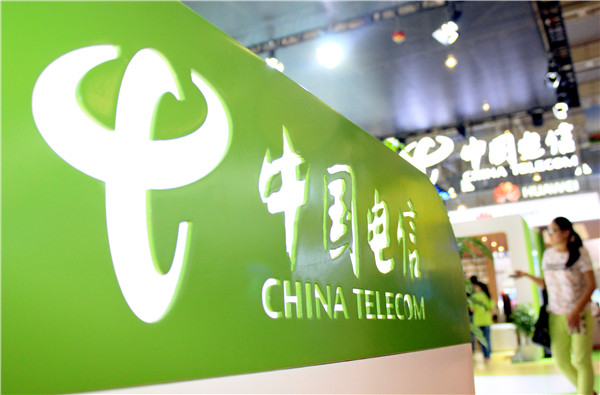 A China Telecom stand at an information industry expo in Nanjing, Jiangsu province. [Photo/China Daily]
China Telecommunications Corp, the country's third-largest telecom carrier by mobile subscribers, said on Wednesday that it would open its user account resources by enabling internet companies to tap into its vast user base.
The move is part of the State-owned company's broad effort to seek closer cooperation with internet players, after its rival China United Network Communications Group Co Ltd attracted private investors in its $11.7 billion ownership reform plan.
China Telecom said users currently need to go through a number of steps such as inputting passwords or receiving a verification code in short messages before they log into internet companies' apps. Such methods are inconvenient and expose users to cyber theft or phone fraud.
Lyu Pin, deputy general manager of the marketing department at China Telecom, said to solve the problem, the company has opened its account resources to dozens of internet companies, including Jinri Toutiao, a leading news aggregator app, Sina Weibo, a popular microblog platform, Alipay, the mobile payment app, and smartphone vendor Xiaomi Corp.
When China Telecom mobile subscribers log into the apps owned by the above internet companies, their identities will be automatically recognized, reducing the trouble of typing in passwords and other steps.
As of June, China Telecom had 230 million mobile subscribers. It is locked in fierce competitions with China Unicom and China Mobile Ltd.
In August, China Unicom said it would raise funds from more than a dozen major investors with 35.19 percent of its shares, including Tencent Holdings Ltd, Baidu Inc, and Alibaba, in the hope of revitalizing its business with private money.
Xiang Ligang, chief executive of telecom industry website Cctime, said telecom carriers are facing big pressure in the mobile internet age as internet companies see robust growth.
"The move to open its user base will not only bring convenience to consumers, but also help internet players reduce operating costs. Moreover, it will enable China Telecom to develop more internet services such as binding its account resources to mobile payment options," Xiang said.
In May, China Telecom signed a deal with Xiaomi to cooperate in fields such as smart home, e-commerce, internet finance and sales of consumer electronics.
Fu Liang, an independent telecom expert, said telecom carriers and internet companies will have closer cooperation in the future, as their businesses are highly complementary, with the former owning core network resources, such as servers and bandwidth, and the latter being known for their innovative capabilities.